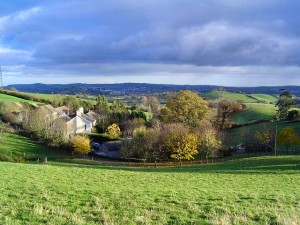 The hog roast machine is its modern day equivalent of the medieval spit roast and can also be used as a barbecue and cook a range of meat, fish and poultry. If you don't want pork how about lamb or a free range chicken or fish . We offer potatoes cooked to your specifications for example new potatoes with mint butter and vegetables or a range of salads. Desserts range from chocolate torte or a cheesecake. Besides our 4 course sit down buffet for a corporate breakfast how about hog on a roll with accompaniments. If you prefer our more complex menu we can also offer pre dinner drinks, canapés and a range of starters including Chinese and Indian food plus vegetarian food.
The more complex is usually served events we can cater for smaller and larger parties as we have hog roast machines of different sizes. If you contact us via the website or give hog roast Newton Abbot a call we aim to reply within 24 hours with a range of menus and a quote to suit your pocket. We also offer individual menus done to your taste if the theme of your party is red we can use some red drinks for example. The main advantage of a hog roast is that it is so attractive it becomes the talking point of the party and as it cooks in its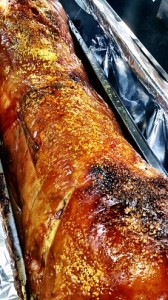 own juices it stays tender.
We supply everything from cutlery to staff so there is nothing to worry about and we make sure the party runs smoothly. Hi I am Jerry I am going to talk to you about a hog roast I did myself with the help of the hog roast hire Newton Abbot. Hog roast hire Newton Abbot supplied the hog roast machine for my anniversary party for my girlfriend Sue and guests. I chose pork as I know that she loves a hog roast all the machines are CE marked. This mark meant that the hog roast machine had been regularly checked and met health and safety standards. I also got the meat from them so that it was locally sourced and I did hog on a roll and salad. The hog roast team also cooked her favourite dessert apple and cinnamon pie , I did manage to do the custard. They delivered the smaller machine and demonstrated it ten minutes later- I had picked it up. Another advantage to a hog roast as it cooks in its own juices you only need to check it every now and again. I had plenty of time to mix with my guests and we had a great time. It looked magnificent and it tasted as good as it looked one of my friends even booked their own hog roast. Sue also had a surprise in her muffin she had a gold friendship ring. Everyone enjoyed themselves and I would recommend it to anyone. They also collect the machine when you have finished. Bye I am off now to meet Sue my girlfriend. Hi I am Celia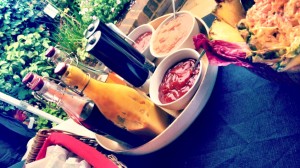 I used to work at the hog roast I am going to talk about things to do in Newton Abbot. Firstly we have a milder climate that makes it ideal outdoor pursuits. For those of you who like history how about a look around one of the Almshouses such as the one on East Street built nearly 500 years ago and it is near to the entrance of the hospital. Bradley Manor is medieval and dates back nearly 600 years ago and has its own gardens. For something different the Cheese and Onion Fayre held in the honour of a saint. The cinema is in the old town hall dating back to the 1800s and is called The Alexandra Theatre. Or if you prefer to eat out you could try Babbinis Victorian styled Tearoom for a cream tea. How about a drink at one of are friendly pubs such as the Union Inn which serves real ale and there are lots of places to eat. Come on give us a call let us help you celebrate your special occasion.