Hog Roast Axminster is a treat that you and your guests deserve, regardless of the type of food catering you're thinking of. We actually offer so much more than you might think, as well as our amazing hog and spit roasts that are loved by many, and that includes alternatives for those guests needing dietary options.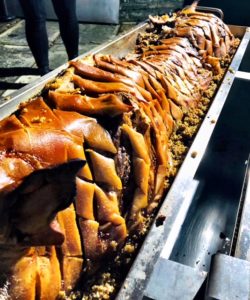 It may well be that you just want to provide your party guests with plenty of variety and we can do that in so many ways – such as our Southern Slow Roast Menu, which gives you three meats and four sides as well as a vegetarian option, and that means there's something in this menu for everyone. You may prefer to have us cook our famous hog roast and make pigs in buns, or roast several turkeys or chickens alongside a variety of side dishes or together with a starter or main and finished it off with a handmade dessert. Or you may want a barbecue instead, with our gourmet sausages and 100% beef burgers or a simple, hot meal with meat, veg and potatoes all smothered in our own homemade gravy and a vegan option provided too. Whatever your needs, Hog Roast Axminster caters with you and your guests in mind every time.
We recently catered an anniversary party at a local hotel where the hosts wanted us to cook our pigs in buns for their centrepiece main course. Having had them before, all prepared, cooked and served by us, John and Marie knew they wanted them at their 35th anniversary party, in addition to some other foods, to ensure everyone would be well-fed. More than fifty carnivores would be having the hog roast rolls, and there would be vegetable and halloumi kebabs for vegetarian guests, with everyone able to enjoy the garden-fresh salads and coleslaw that we would be providing too.
On the day of the party, Hog Roast Axminster arrived five hours before service and got to work on the local, quality pig, preparing it from scratch. Sometime later, the air was full of yummy, meaty smells and we grilled the veggie kebabs and put together the salads and by 6pm it was finally time to serve some lovely, homemade goodness to John, Marie and their guests.