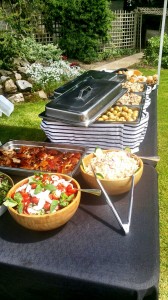 Our hog roast Cornwall team made up of Paul, Emma and Calum cater in all areas of Cornwall providing fantastic hog roasts for any type of celebration. With the highest standards and best quality Cornish produce we really do provide the tastiest hog roasts in Cornwall.
We are well known for being the best Hog Roast Caters in Cornwall, and with good reason, we strive to provide fantastic tasting food partnered with an unbeatable service to make your party unforgetable. Every event is just as special as the other, we never get bored of hog roasting, just as you will never get bored of tucking into a delicious hog roast.
A Unique Hog Roast Cornwall Experience
I live and work from my farm based in Truro in the beautiful and picturesque Cornish countryside. From here we provide our hog roast catering service and it is the perfect base with readily available fresh salad ingredients and vegetables right here on the family run farm. We believe massively in home-grown or locallay reared products as we think it makes them extra special and it is clear that the Cornish public agree. I am so lucky and privileged to be able to live in one of the most beautiful parts of Britain and can get no greater pleasure in working in the outdoors and watching the landscape change and the seasons develop. The farm where we live has been in my family for generations and that is not something that I would ever want to change.
On our farm we breed and traditionally rear all our own pigs, a hybrid between Welsh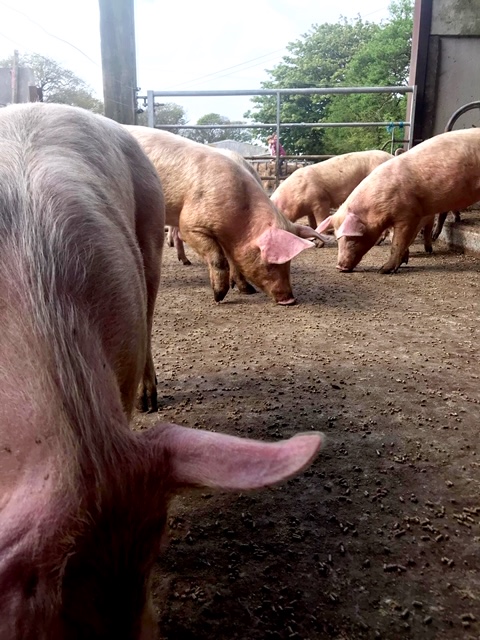 and Large White pigs and Aberdeen Angus cattle. We have been hog roasting for over 10 years and pride ourselves on good communication, great attention to detail and going above and beyond to ensure we deliver exceptionally high standards. Our business now compliment each other, the farm is run to provide all the free range, high quality meat for our busy hog roast catering business and we have started breeding our own lambs to ensure that for even our Southern Slow Roast menus we are still able to use our home reared high quality meat.
The Hog Roast Cornwall catering that we provide is famed for the amazing food and service. We take no short cuts when catering; everything that you're getting is of only the highest standards. The staff we employ are fully trained professionals with education and real experience in their role, whether office workers, chefs or waiters and waitresses. Without a real advertising and marketing business we depend largely on word of mouth promotion, the excellence that we guarantee and constantly deliver is the main reason for our unrelenting growth and popularity – We wouldn't be where we are today, as Cornwall's favourite caterers, without it. It's not often people get to enjoy a Bodmin hog roast and that makes it one of the main selling points, the level of uniqueness afforded by a Falmouth hog roast will benefit you greatly.
More About Our Family Team
The key foundation team are made up of myself Paul, my wife Emma and my eldest son Calum. Calum started in the farming industry at a young age and naturally helped out on the hog roasts too. He even ran his first wedding at the age of 16 with two members of staff which was based out of the County. The bride and groom complimented Calum on his very high standards and pride in his work. Calum went on to study catering and soon became a qualified chef, he now splits his time between the farm and hog roasting.
My wife Emma works hard on the farm while also looking after our family, particularly our youngest son Charlie, Emma assists on many aspects of preparation for each event and enjoys front of house on the events, engaging with your guests and ensuring our presentation is exceptional. Emma is also well known for preparing some of the finest crackling!
As for me, I enjoy working hard on all aspects of our business, I enjoying cooking and carving your pig but equally enjoy the front of house, I have built the hog roasts from humble beginnings, we pride ourselves on the positive feedback we regularly receive, our repeat trade from private bookings to hotels and professional recommendations.
Providing The Best Hog Roasts Around
The wonder hog roasted pig sandwiches we cook up are a real crowd pleaser and great for corporate business meetings, fund raising events and pre and post sports game breakfast and lunch. I've always been driven by a desire to spread the gospel of a Padstow hog roast and our pig sandwich option is a great way to do so. The most important thing about me and my company – We love hog roasting! My love for spit roasting almost borders on the religious and fanatical.
Spitting Pig certainly doesn't start and end with catering though, we can also hire out our machines without food, chefs and waiting staff. It's the cheaper of the two options but the nature of hog roasting makes it equally tasty and impressive. The chefs we employ are fantastic and know the ins and out of hog roasting but at its core hog roasting is really rather straight forward, with the machine hire service you can cook and serve the wonderful spit roasted foods yourself. When we deliver the machine to you (free of charge) with your bottle of gas (also free of charge) one of our trained members of staff will show you how to operate the machine. It's not very complicated and we won't take much of your time! And because the machine does most the hard work for you the quality between what you cook and what we cook isn't all that great. Although we'd advise making sure you find a good pig, we can sell you one or point you in the right direction with that.