Whilst there are some couples who want their big day to be as big as possible, there are others who prefer a softer touch. Take some of our most recent clients, Alice and Jennifer, for example. For their wedding day, they didn't want an elaborate church service with hundreds of guests, but chose instead to tie the knot at the local town hall, with a small simple service. Of course there was a celebration afterwards, which like the service was an intimate affair, but the simplicity of the event made it even more special.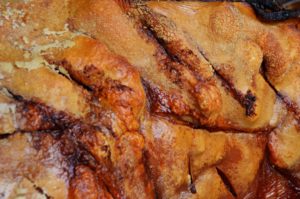 The team from Hog Roast Hayle spoke with Alice and Jennifer before their wedding to arrange all the particulars, and simplicity was always the MO. There was to be just ten guests and they wanted only a Hog Roast and a dessert. The reception was to be held at Alice's mother's home where they would eat in the sunshine and enjoy a few drinks together before moving down to the local pub later that night.
We arrived at Alice's mother's home, where Alice and her guests were still getting ready – Jennifer had stayed at her own mother's and was getting ready there. The team from Hog Roast Hayle set about butchering the hog and placing it on the machine to roast. When everybody left for the service, our catering assistants began decorating the room with 'congratulations' banners.
A couple of hours later, when the smell of the Hog was wafting through the air, the happy couple returned with their guests, and our catering assistant handed out glasses of champagne. The Hog was soon ready, with its succulent flesh piping hot on the inside, and it's crackling nice and crispy on the outside. The guest ate and drank and laughed in the sunshine for a few hours before the wedding cake – a surprise from Jennifer's mother – was revealed and ceremonially cut by the two brides.
Once Alice, Jennifer and their guests had left for the pub, the team from Hog Roast Hayle tidied away their mess discreetly and disposed of any waste offsite. Remember, an event doesn't have to be big to be special.