First impressions are important, and hoping to make a positive impact on their local community with their new business venture, Alex and Sam, like many business owners, decided that the best way to get their name out there was to open their doors to the general public by hosting an open day. But snowed under with all the responsibilities that come with launching a small company, the pair were finding it difficult to plan the event on their own which is when they discovered Hog Roast Ilfracombe. With years of experience in the industry, our team of vibrant caterers can make any event unforgettable – which is just what Alex and Sam were looking for!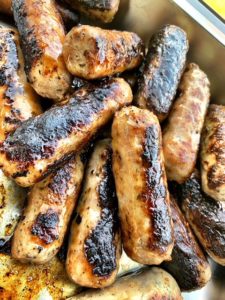 As a small business, the entrepreneurial pair had a set budget in mind for the event, and after discussing the wide variety of packages we have on offer with our talented catering manager, Alex and Sam were pleased to discover that booking our services wouldn't break the bank. After placing their trust in the Hog Roast Ilfracombe team to pull off the all-important day with our classic hog roast menu, the pair finished the call feeling hopeful that this could be the kickstart they needed to get their business off the ground.
In the run-up to the event, the Hog Roast Ilfracombe team made sure to stay in touch with Alex and Sam about preparations for the open day which helped them feel more at ease that everything was running smoothly and going according to plan. Before long, the catering crew were packing up our van with an array of wholesome food and a selection of cooking equipment which was quickly unloaded upon arrival at the venue and working against the clock, the team banded together to bring our crowd-pleasing menu to life.
Plenty of curious locals turned up to learn more about the business and take advantage of the delicious food on offer which included gourmet sausages, handmade burgers, locally sourced free-range chicken, a whole slow-roasted pig and a meat-free alternative of grilled vegetable and haloumi skewers which paired nicely with the inclusive gluten-free rolls and wraps. Alex and Sam were so pleased with the turnout and support they received from the community and have since thanked the Hog Roast Ilfracombe catering crew for making the day so successful.