This year, a local priest decided he was going to hold a BBQ that raises money for people who are hard on their luck and struggling to survive an expensive Christmas period. Father Pat generously used the church'sown money to set up a number of stalls in the church grounds, which would be used for all manner of things from buying and selling used clothing, to arts and crafts and even a beer stall. Fortunately, he also contacted the team at Hog Roast Newquay, who upon hearing Father Pat's plans, decided that they wanted to do whatever they could to help.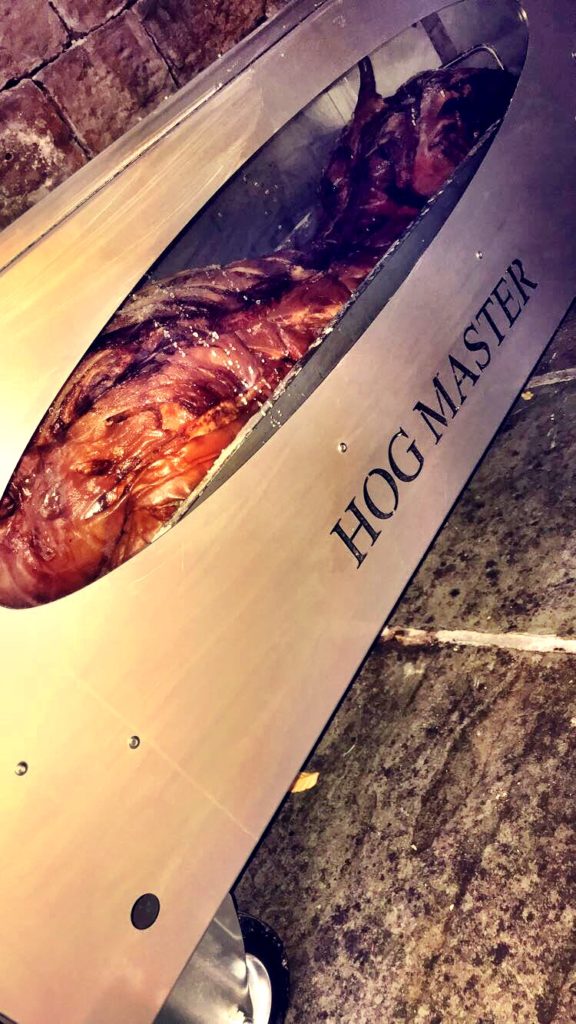 Our wonderful team provided a fantastic menu 1 and also sent one of our top, professional chefs to cook and serve the Hog at the BBQ. Delighted with our efforts, Father Pat welcomed us, and his hundreds of guests into his Church with open arms. We arrived on site nice and early, hours before the guests were due, in order to prepare the Hog. We start by making incisions along the Hog's back and seasoning with salt. This helps the Hog to cook quicker and allows the crackling to become extra crispy, as the heat is able to penetrate deeper. One of the advantages of taking the Hog Master Glass machine,was being able to observe how the pig is cooking through the convenient window placed on the front of the machine, as opening the lid would allow the heat to escape and add a minimum of ten minutes onto the cooking time, each time it happens.
After a few hours, the Hog was golden brown and its meat piping hot and tender. By now guests had arrived in droves and had been waiting eagerly for us to serve. It was no surprise then, that after barely five minutes, we'd served well over thirty people with our fresh pigs in buns. Our friendly chef was all smiles as he served Father Pat's wonderfully generous guests, who thought the Hog Roast was a marvel to behold, both in terms of cooking method, and in terms of taste.
Father Pat's BBQ was a triumph that raised over £2,000 for families that need a little bit of help this Christmas. With the night being such a success, Father Pat decided that this was to be an inaugural event, and that he would hold a BBQ annually. Of course the team at Hog Roast Newquay would be there to help again!