Are you thinking of hiring a hog roast machine and cooking your own meat, so that you and your guests can enjoy something special and different that has the personal touch too? If so, you've come to the right place! Hog Roast St Austell is a local and national leader in ensuring that our customers and their guests have the best equipment at hand in order to make tasty food that will be loved by all. Our own hog roast machines that we rent out are excellent quality, highly versatile, durable and easy to manoeuvre, so you can be sure of cooking great food, and not just meat, using equipment you can trust and just about anywhere you have in mind, as they are not only easy to move but they are gas-powered too, so you don't have to be near mains electric to use them.
In terms of versatility, it may surprise you to find out that our machines act like conventional ovens, so you can cook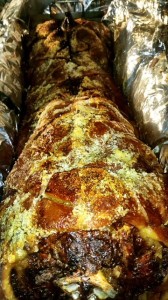 anything in there that you would cook in your oven at home. If you fancy roasting a hog from scratch, that can be sizzling away at the top of the machine while you have potatoes and vegetables cooking away inside, meaning you can cook an entire meal in one go. You may prefer to spit-roast an animal or bird and have loads of jacket potatoes cooking away inside instead, or you may want to use our barbecue attachments so that you can cook ribs, burgers and sausages, and have additional options cooking inside. Whatever you have in mind and whatever you need to cook so that your guests can enjoy what you yourself make, a Hog Roast St Austell hire is the one for you.
We recently rented out one of our machines to a local business that wanted to cook for their customers at their open day. Our Hog Roast St Austell chef took along a trusty machine and even took along a large hog for them as requested, and then we walked the staff through how to use it. This doesn't take long as we made these machines with ease of use in mind, and by 2pm that day, there were plenty of customers munching away on tasty, homemade pigs in buns.