You may not know that Hog Roast Penryn can provide much more than a hog roast if needed, either in addition to one or instead of. While our amazing signature hog roasts are incredibly popular and have been satisfying guests both near and far for many years, we also know that we need to offer much more, so that all the guests at your party or event are catered for.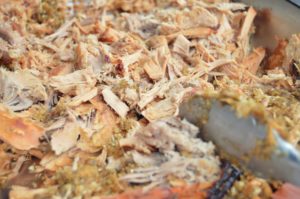 Whether you are inviting guests on special diets, like vegetarian or vegan, or you want to provide a different main to serve to the carnivore guests, or even extra dishes that everyone can enjoy, Hog Roast Penryn has a good deal of menus for you to browse and you can mix and match items between them if needed. We can help you to create your own menu if you prefer and we're more than happy to provide options for different diets, as long as we have advance notice to be able to create a suitable, fresh, tasty dish on the day.
Sometimes, however, one of our menus is exactly what you're looking for, and for Jack who booked our catering services recently, our Southern Slow Roast Menu was just the ticket. This highly-popular menu features your choice of three different marinated meats from a possible five and four sides from a choice of seven, as well as a vegetarian main if necessary.
You can hand-pick the mains from spicy lamb quarters or whole chickens, barbecued pork butt, Texan beef brisket or Louisiana sticky pork ribs, which are all marinated in our secret rubs and on the day, roasted slowly at a low temperature and vegetarians can enjoy our grilled vegetable and halloumi wraps, served with Tzatziki sauce. In terms of the sides, choose four from jackets, spicy wedges, mac and cheese, corn cobettes, coleslaw and two salads, and there you have it – a Hog Roast Penryn Southern Slow Roast!
When we catered Jack's private party on Monday evening, we cooked up a delicious storm with lamb, beef, pork, mac and cheese, jackets and wedges, and freshly-prepared our homemade coleslaw to serve alongside fresh bread rolls and wraps and plenty of sauces, and all thirty guests devoured the lot with absolute relish.