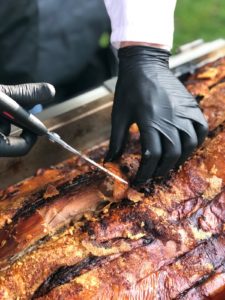 What is the attraction of working as a hog roast caterer in Axminster? Well for us, it's impossible to fault the area. For preparing and serving delicious hog roast, Axminster is a prime location to be in. You need a great product to make a go of it anywhere of course, and we've certainly got that. What we specialise in is sourcing the best local meats and other ingredients before preparing and cooking them to perfection. Our customers here in Axminster know what we're all about and that is exactly why they return to us for more time and again. If you had to construct a rural idyll, you could do far worse than using Axminster as a model. When people from outside hear 'Axminster' they tend to think 'carpets' and it's certainly the case that the textile industry has played and continues to play an important part in the town. Carpets are only part of our story though. Axminster is recorded as a well established town in the Domesday Book and indeed there's been a settlement here even since the time of the Celts – before even the Romans arrived. People have been living, going about their business, celebrating and eating in and around Axminster for several millenia and we're proud to be part of a very long tradition. It makes it all the more special that our business is the preparation of meat by means of a process – namely spit roasting – which is just as old. For us, slowly and expertly spit roasting the finest local meats is an art and it's certainly reassuring to know that people in and around Axminster have recognised this for thousands of years.
We're not all about the past though and things are certainly happening in Axminster. Visitors to Axminster will find a bustling market town, full of pretty architecture and ideally positioned on the eastern edge of Devon and this certainly helps with bringing in the tourists. We're surrounded by some lovely countryside with plenty of sights to see (for example the stunning Forde Abbey monastery and gardens down the road). This makes us an ideal choice for visitors, whether they be planning to visit for a couple of days or even longer – particularly if they're looking to use Axminster as a base for exploring the wider area. So far as visitors are concerned, our philosophy is 'the more the merrier' because hopefully a lot of them will get to experience our delicious hog roast, Axminster residents themselves have come to love. Indeed it's the local people here in Axminster who are at the heart of our hog roast catering business. It's important to remember that Axminster is only a small town with just 5000 or so residents and so word gets around fast. If our product was not up to scratch then we wouldn't survive – it's as simple as that. Fortunately for us, our delicious spit roast in many ways speaks for itself which means we are able to thrive here in Axminster. People here know that whatever the event or celebration, they can count on us to deliver the goods to make it that extra bit special.
Leaders In Our Field in Axminster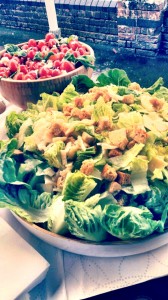 There is no occasion too big or too small to be wonderfully enhanced by our delicious hog roast. Increasingly, people here in Axminster are getting to know that the hog roast experience is so good that they want to get into the driving seat themselves. When it comes to hog roast hire Axminster folk automatically come to us. Very often, what they're looking for is something a bit personal and special and as part of this they want to be able to prepare and serve a delicious hog roast themselves. We can give them everything they need to do this. Most importantly we're able to provide to our customers our prime quality spit roasting equipment and, crucially, to give them whatever support they need to operate it with confidence. We're also able to supply our specially selected ingredients. It's also the case that for hog roast hire Axminster businesses (pubs and the like) are seeing the benefits of being able to serve hog roast to their customers and they also come to us. What many of our customers here in Axminster are looking for though, is a true feast coupled with the finest catering service. This is especially true for our many corporate customers seeking an impressive yet professionally served meal and equally for couples looking to present a memorable spectacle to their guests. Whatever the people here in Axminster are looking for, we're happy to provide it.