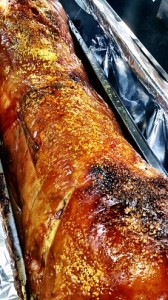 So how is it working as a hog roast caterer in Barnstaple? What we do is prepare and then cook the finest meats to an ever growing customer base here in Barnstaple so there are few better ways to spend your working life. Our basic method is to spit roast our meats and it certainly feels special to be able to use this time honoured method. What makes our hog roast stand out is that we use our expertise to combine the best local ingredients from around the Barnstaple area with our tried and tested preparation methods and to use the best spit roasting equipment to produce a hog roast experience which is head and shoulders above the rest. For hog roast Barnstaple people recognise quality and we are here to give it to them. When you're in our line of work, Barnstaple is hard to beat as a location. The town sits on the River Taw in North Devon and it's been here since at least Saxon times. Some say we're the oldest established borough in the country. Barnstaple first became wealthy as a port exporting wool in the middle ages. There's been lots of ups and downs since then but there's still a lot going on here.
We're the main shopping area for this part of Devon and the town centre is bustling. Barnstaple town centre is pretty as well – we've got the Pannier Market which is a lovely wood and brick covered market hall dating from the mid 19th Century and just outside the town there's the Marwood Hill Gardens and the Broomhill Sculpture Garden which are both pleasant days out. What we have here in Barnstaple is a great combination of a lovely location and a fantastic customer base. There's about 21,000 or so people who live here and hereabouts and it's a pleasure to be able to cater for these people with a top notch hog roast service. For us as purveyors of hog roast, Barnstaple is where we like to be. Long term residents and visitors alike certainly seem to appreciate our great hog roast product – whatever the occasion.
Leaders In Our Field in Barnstaple
The variety of work we do here in Barnstaple also helps to keep us engaged. We consider ourselves to be very lucky in that we are able, in no small part, to share in the celebrations being enjoyed by the people here in Barnstaple. Whether it be corporate events such as conferences for hundreds and even thousands of guests, weddings in whatever form the happy couple in question choose, through to more informal get-togethers, we are able to bring our experience and expertise to bear in order to make the day truly memorable. A hog roast, properly prepared and presented is truly a feast for all occasions and our customers here in Barnstaple appreciate this.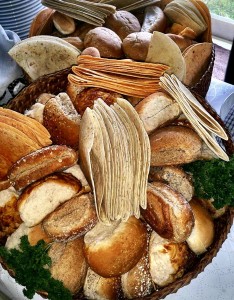 Celebrations in Barnstaple, just like the people themselves, come in all shapes and sizes. For certain people and for certain events, what the customer is looking for is to be able to 'do it himself' when it comes to cooking and (most importantly) serving the food. As well as incredibly tasty food, one of the key features of good hog roast is an element of spectacle. For hog roast hire Barnstaple customers come to us. Our hire service involves us supplying to our customers here in Barnstaple the very best hog roast equipment. We provide support and assistance as needed and we can even supply the meat if the customer wants us to. When it comes to hog roast hire, Barnstaple folk have really taken to having a go themselves – at least that's what we find. Very often though, what our customers here in Barnstaple are looking for is a combination of great food and great service. They want to be able to sit back and relax and leave it to us to produce the wonderful spectacle of a delicious hog roast with all the trimmings. For us, this is what hog roast catering is all about and we have a fantastic team on board – expert chefs, trained waiters and attentive customer advisors to ensure that the needs and wishes of our customers here in Barnstaple are met. Whatever the event, our customers know that the food is going to be delicious and the service is going to be excellent which is why they keep coming back for more and for as long as they do so, we're here to serve them. That is what being a great caterer is all about.