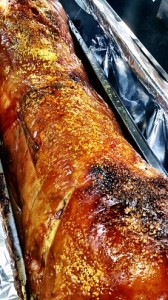 What's it like working as a hog roast caterer in Braunton? We really enjoy being able to work as hog roast caterers here in Braunton and a lot of this is due to the fact that there's a great combination of friendly people and a lovely place. Most of all, what we like about Braunton is that the people here are very discerning and when it comes to good food they certainly know their stuff. As premium hog roast caterers, this suits us down to the ground. We know that the delicious hog roast we serve to the people of Braunton is a world beater. What we have is the great combination of the best locally sourced meats and other ingredients coupled with our expert staff using the ancient but tried and tested method of spit roasting to really bring out the very best of those ingredients to create a truly marvellous feast. Little wonder then, that when it comes to hog roast Braunton people know to come to us.
Braunton's only a small place with about 7500 inhabitants but so far as we're concerned that only makes it all the more special as an ideal location to provide our fantastic hog roast. In the catering business especially, reputation is key and here in Braunton the word is out that our hog roast is just the ticket – no matter what the celebration or event. When it comes to supplying hog roast Braunton is hard to fault as a location. It helps of course that Braunton is such a peaceful and pretty place to be. We think that it really is a pleasure to get up and come to work here every day and you can't say that about everywhere. Braunton sits in North Devon . Part of the town rests in the North Devon Coast Area of Outstanding Natural Beauty and we're lucky that the South West Coastal Path and the Tarka Trail (linking North Devon Coast to Dartmoor) both run through Braunton. What this means is that Braunton is very popular with all sorts of visitors – whether they be walkers, cyclists, or indeed anyone looking to get away from it all. We certainly welcome guests into the area. So far as we're concerned the more visitors there are to Braunton, the more opportunity there is to be able to serve people with our wonderful hog roast.
Visitors are one thing but it's the locals here who are the mainstay of our business as hog roast caterers. Whatever the party or occasion they know that they can rely on us to prepare a delicious hog roast to really make that occasion special. The people of Braunton are lucky in that there are so many great locations around to hold a party – whether it be beautiful country hotels for corporate engagements and weddings, enticing country pubs with cosy beer gardens, camp sites and indeed the great open countryside at large. Whether it's a lavish affair or an intimate gathering, our hog roast is renowned around Braunton as a sure fire way of bringing that wow factor to an occasion and making it a day to remember. Indeed the whole idea of hog roast is taking off to the extent that people are quite naturally wanting to have a go at it themselves. This is where our hog roast hire service really comes into its own.
Great Food For All Occasions in Braunton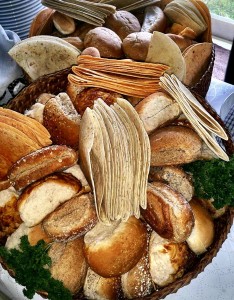 What we are able to do is to supply our customers here in Braunton with top of the range materials to enable them to prepare and serve delicious hog roast themselves. As anyone who has sampled our hog roast will tell you, it truly is a spectacle and many people find that this can be enhanced even further by actually preparing and serving up the feast yourself. We always give full instruction and support to our customers to give them the confidence to be able to do this and it's up to them whether to get their meat and other ingredients from us or alternatively they may have their own source (particularly if they're a corporate customer). For hog roast hire Braunton people keep coming back to us for more to the extent that when it comes to hog roast hire Braunton people regard us as the place to go. There is always something going on here in Braunton and it's a pleasure to be able to help the community celebrate – whatever the occasion. We're certainly going to be here for a long time to come.