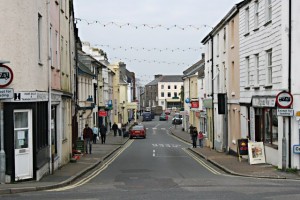 Working for a hog roast hire Callington event this meant that I would be heading straight down memory lane on my last job, the hog roast hire Callington meant that I would be catering for a birthday party that was situated near Dupath Well, this well has been a sacred spring since 1510 when it was built. The birthday party was for a hungry gentleman that was due to turn 60 and his wife decided that as a bit of a joke, she'd organise his party near a sacred fountain that possesses qualities of youth! I believe that the real ale they'd also organised would make them slightly more youthful! The hog roast Callington catering required one large hog to be roasted and it was imperative that stuffing was present! I obliged and spoke to my local butcher when arranging the hog to be collected that I would also need a large amount of sausage meat as well a large amount of onion and sage from a local producer who I have known for a few years now.
For preparation, I opted to stuff the hog for the hog roast in Callington a day earlier in order for some of the flavour to begin to work its magic in the flesh of the hog. I seem to encounter problems when performing hog roasts is that the meat, of which I work hard to ensure maximum taste; is not overlooked when diners scramble their way to get to the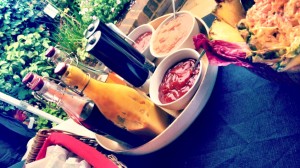 crackling first! I always ensure a fine piece of crackling for diners as I know how important this part of a hog roast is, to make sure this is of the highest standard each and every time, I score the hog skin with a hickory knife and rub olive oil and coarse-ground sea salt, I sometimes like to add a bit of paprika to the mix in order to give a ruby glow to the roasted hog. For the hog roast Callington, I just went for the traditional mixture as requested. When it comes to extras for the diners, I tend to opt for plain white and brown rolls, potato salad as well as my unique, home-made bramley apple sauce. This is a secret recipe that my mother used to use on our Sunday roast if we were having gammon. The mixture is one that not only compliments freshly roasted pork but also one that slightly cleanses the palate with a cheeky kick at the end!
The Callington hog roast birthday party was a great success, the hog had roasted perfectly by the time all the guests had consumed numerous bottles of beer, ales and copious amounts of white wine. I could see people gazing over at the hog roast machine that was pumping out some of the most divine fragrances known to mankind! Once the roast was ready to eat, I set out a separate container to dish out the stuffing into and usually, people tend to just go for a pork sandwich and some apple sauce, at Callington, it was slightly different, every guest that I served to advantage of the stuffing and I had to explain to the diners that had come back for thirds that there was none left!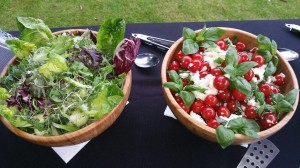 As the diners got down to some serious partying, I began to de-set my stall, machine and leftovers and began to get ready to leave. I asked a few guests if they were full and all of them said that they weren't sure they'd eat for another week! To me that is the sign of a fantastic hog roast, the hog roast Callington turned out to be one of my favourite jobs to date, I'd like to thank all that attended and dined and last but not least, I'd like to wish a very happy 60th birthday to the main man!