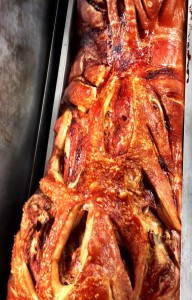 With over twenty years' experience catering all over Cornwall we understand the value of being flexible in our approach. With weddings, retirement parties and some corporate functions on the horizon the variety of events is amazing; indoors and out and all hours of the day and night. Here at Spitting pig we take it all in our stride. Thanks to the hard work and attention to detail of our Event Planners, the quality of our organically-sourced ingredients and the friendly, professional approach of our chefs and service staff we always enjoy a challenge. A hog roast Camborne won't forget any time soon is top of the agenda!
Whether catering to a small dinner party or a post-Trevithick Day party crowd we take care of everything. We can't guarantee stunning weather, of course, but with a mobile lighting rig and portable gazebos at our disposal we can make sure the fading light or a sudden change in the weather won't put a dampener on a cracking party atmosphere! Our chefs have prepared six full menus from which you can choose a variety of succulent, melt-in-the-mouth meats and a terrific range of complementary tangy sauces (the apple you just have to try!). All our food is prepared on the day, including some wonderful freshly baked bread, and of course the centrepiece of the whole event – a glorious hog roast Camborne (or at least your own personal part of it) will find irresistible. The intoxicating aroma, the taste of tangy sauces, the crunchy texture of golden crackling and the anticipation of hungry guests all huddled together (seriously you'd be amazed how it draws people), plates poised, ready for a taste sensation. All you have to do is relax and enjoy being with all your friends and VIP guests.
Great Food For All Occasions in Camborne
Many of our more adventurous customers ask us to provide the equipment and then have a go at roasting duties themselves. With one of our talented chefs on hand for a little expert guidance there's no reason why you can't blow your guests away with an impressive display of your culinary flair! Having vegetarian guests along? We can make sure they don't miss any of the fun by setting them up a unique spit roast too. No-one gets left out of a marvellous dining experience that harks back to the days when the Romans often held a 'do' at the villa in Illogen! This is truly a dining experience in all senses of the word. We have dozens of references from satisfied customers but it's what you think that matters.