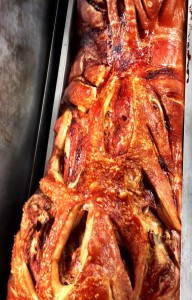 For hog roast hire Dawlish, we are proud to be your number one source of excellent hog roast catering. As the country's premiere hog roast caterer, our long list of satisfied clients speaks for itself. Nothing beats the sight of a whole hog roasting on a spit, turning slowly and cooking to perfection. It really sets the party off, fills the area with the delicious scent of cooking pork and best of all, tastes fantastic. For hog roast Dawlish events, we can supply full catering to events big or small. With experience catering for hundreds of people, we never back away from a challenge and strive to offer the best of the best. So at the seaside town of Dawlish, you don't need to stick to fish; while we do specialise in cooking whole hogs for you, our machines can cook pretty much any meat you can think of with the help of our specially designed attachments. If you want to give guests more variety, hire two of our machines and cook two different types of meat.
And really, there's nothing quite as theatrical as the sight of a whole hog roasting to perfection at the centrepiece of your event. Our machines cook the meat so perfectly, leaving the inside soft and succulent and the skin crispy and delicious. Our chefs are experts in preparing and carving the meat, and our waiting staff are professional and friendly.
Our menus can be seen right here on this site, but they are only a taste of what we can do. Full menus can be changed to your liking to include that special dish you want for your event, and more choices can be made for vegetarian, vegan or guests with allergies. We can prove to you that a restrictive diet doesn't need to be restrictive!
Leaders In Our Field in Dawlish
For hog roast Dawlish events, our machines are second to none; with a sturdy and strong stainless steel casing, our CE certified machines are easy to clean and a joy to use. Whether you choose a spit roasting or pan roasting machine, you can be assured of excellent quality every time. Years of research and trial and error have led us to create what we believe is the perfect apparatus for cooking succulent meat, and we are proud to be able to supply the best machines in the business. And they are easily movable too; all our machines are fitted with strong wheels capable of carrying the machine and hog easily if you need to move it around, and handles ergonomically designed to optimise ease of pushing and pulling your hog roast around. This is perfect for when you need to change a venue very quickly, such as if the heavens open at your outdoor event or the DJ at your wedding reception is adamant to occupy the place where you've already set it up. No fuss, no worry, just great cooking.
If you are here for hog roast hire Dawlish, we are here to deliver you excellent service. Imagine the pride of cooking a whole pig and carving it for your friends. Our machines are issued to you at a pre-arranged delivery date, and we can set them up for you in about ten minutes on the site. If you are a bit of a newbie regarding hog roasting, we will supply you with full instructions on the set up and details on exactly how to cook that perfect hog, but you will be surprised at how easy it is.  If you can't source a pig yourself, we are more than happy to do that for you too, and give you full instructions on how to set it up. Just let us know what number of guests you are expecting, and we can supply you with an appropriately sized hog. Don't worry about not being able to feed everyone though; the Zeus and Titan machines are capable of cooking 80kg behemoths which can feed up to three hundred people, and without any need for electricity you don't need to worry about dragging an extension cable around either. Our hog roasting machines couple versatility with style, and once you've tried one that old barbeque rusting in the corner of your garden just won't hit the spot anymore.
For the best hog roast catering options, Spitting Pig is your first port of call. We strive to deliver excellent customer service, so give us a ring or send us an email right now and find out what we can do for you.