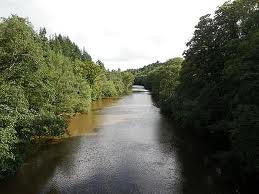 The hog roast hire Gunnislake called me and told me about the requirements for the roast; I sorted out a fresh hog for them and began to gather my sides in order to be prepared well in advance. I know a few butchers that I can use if my regular one is unable to get me a decent-sized hog for my job.  I secured a large, fresh hog well in advance and went to go and collect it the day before the hog roast in Gunnislake central. Once I had acquired the hog, I set about making my southern-American style banquet for the hard working mechanics. I was asked to supply a barbecue style hog with all American style side orders. This was definitely going to be a fun job to do! I arrived on for the hog roast in Gunnislake and began to sort out the hog in order to have it ready for when the suitably-refreshed mechanics eventually arrived, there was a local band playing American rock music on the other side of the venue who asked me to keep them all a good sized sandwich for their mid-set break, I agreed on the basis that they'd play Born in the USA for me as it's my favourite song of all time!
For a southern-style hog roast, I tend to use an injection of molasses, sugar and spices for a real southern-style taste; I also decided to do a side of my own barbecue sauce and cornbread for authentic American taste. The cornbread is seldom seen here in the UK but what better place to make cornbread! As the party arrived, I began to serve some very large and burly men that had clearly changed a few clutches in their time, not to mention drained a few pints before arriving to their party. As they all started to filter in, the band began to play and the hog was now ready to be served. I carved the first sandwich and served it to one hungry mechanic that said he'd never tried cornbread before but couldn't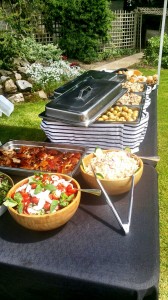 get enough of it! The hog roast hire in Gunnislake had given me a very high-tech roasting machine that allows me to tell the temperature as well as times the roast perfectly so I end up with great results, one mechanic was clearly impressed and told me that if it ever needed a service, he'd be more than willing to help! The hog roast in Gunnislake went really well, the boys all filled their boots with plenty of hog roast sandwiches, potato salad and even a few mini Cornish pasties I had made with excess pork from the last roast I had completed. All the extra sides went down very well and I think I managed to satisfy all of their requirements! As the party got into full swing, I decided to start de-setting my stall, mainly because between the band and the mechanics, I had absolutely nothing left! The mechanic that was interested in the machine I was using came over to help and find out how the machinery actually works! Just shows you that some people genuinely can't leave their work alone! Saying that, I think I'm actually having roast pork for dinner this evening! Another classic case of pot calling the kettle black!