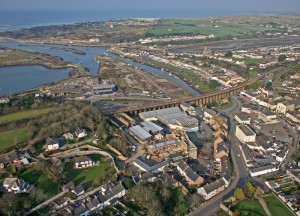 My hog roasts are quite well known down in the Cornish area due to the use of pork, I make sure that all of the hogs that I roast are free range bred as I whole-heartedly believe that they work magic with their pigs, the pork tastes better, performs better when roasted or grilled and is somehow more satisfying when eaten. It's quite a job to get the hogs from the area but luckily for me, I started work at the same time as an old school friend that had just set up his own butcher shop in Somerset so I get a deal on petrol and in return I cater for him whenever he needs. My last hog roast Hayle event was great as I didn't have to travel too far to work which is always a bonus! I was catering for some holiday makers that had clubbed together to have a hog roast feast on the beach in St. Ives Bay close to Godrevy lighthouse. The hog roast in Hayle was all arranged with specific requirements so that I really get involved.
A few of the guests were quite well-schooled in the way of the hog roast so I really had to step my game up a notch in order to impress them. I personally selected a hog from my friend after seeing his current range on a visit to him and found a hog that had lived a full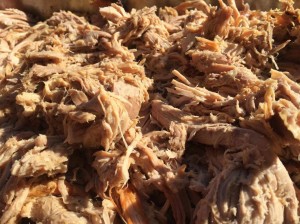 life and had plenty of room to roam and make its meat tender and tasty! As the customer had specified a traditional hog roast for their beach-gathering, I decided to score the hog and rub olive oil and sea salt into the skin, this not only ensures that the meat doesn't dry out and above all else, makes the crackling divine. The crackling is what all great hog roasters are judged by; I had to get it spot-on. I arrived at the beach in the early afternoon as I had to leave enough time in order to get the hog roast in Hayle absolutely perfect. I had stuffed the hog with good quality pork sausages and sage to give maximum pork flavour and to maintain fantastic succulence within the meat itself. Once the machine was set up and the flames were flickering nicely, I loaded the hog into the machine and shut the lid. I like to use the time I have to arrange the sides that I prepared the night before. I use freshly baked brown and white rolls, potato salads and my own home-made apple sauce, a hog roast is not a hog roast without this condiment.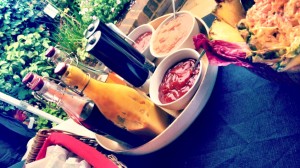 My own sauce is as it should be, thick and tangy, not like these processed jars of rubbish that you can find in most supermarkets. As the holidaymakers gathered round to sample the fruits of my labour, I began to feel quite nervous as the first 'expert' was served, he took one bite and looked at me with a strange stare, then began to smile and couldn't believe how good the taste was! I was so relieved and served the rest of the guests.  As the evening drew to a close, I finished up the last of the hog and left it in an air-tight box for the customers to enjoy the next day cold. I de-set my machine and began the short trip home and was chuffed that I could impress even the most well-schooled hog roast hire Hayle diners on the Cornish coastline, I certainly won't forget that job in a hurry!