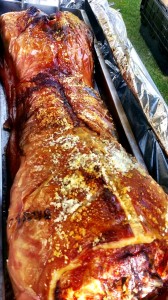 One of my more recent catering experiences in Honiton was for a medieval-style fair held in the centre of the town. As a hog roasting chef for Spitting Pig, I have already carved pork at a variety of private events, but this was one of the larger events. With stalls set up all over selling a wide range of crafts and medieval-style souvenirs, it was a no-brainer to choose a hog roasting company to provide one of the snack options for browsers. What medieval banquet would be complete without a whole roasted hog? Though hog roasting has been a practice for centuries due to its simple and thorough method of cooking, most will associate it with medieval banquets, feasts and noble celebrations. Simple but perfect, the constant turning of the meat over flames cooks the hog all the way through. Depending on the size of the hog, this could take a number of hours and feed hundreds of people.
Today, you don't need to worry about turning a spit for hours to get that perfect hog roast. Our spit roasting machines are capable of holding and turning some real behemoths of the pig world thanks to our specially designed motor and strong, sturdy stainless steel casing. And you'd be surprised how easy it is to use one of our machines; our secondary business is private hog roast hire, and we are proud of our glowing reviews. For your event, imagine carving off your own perfectly cooked pork and serving it to your hungry guests, with minimal fuss. No poking over a barbeque that refuses to light, no burnt burgers or half-cooked sausages; just perfect meat every time from your hog roast Honiton party (although if you do want to cook burgers and sausages, our machines can do that too.)
The sight of my spit roasted hog and pile of floury bread rolls at this hog roast Honiton event waiting to be filled with slices of pork and apple sauce garnered me a lot of attention early on. I had brought one of the biggest pigs the machine can carry – a monster at 80 kg – to cope with the projected demand. Given how delicious the smell alone is, it was no wonder that the hog was almost stripped bare by the end of the day.     If you're not after a pork roast, why not try something else? Though we do specialise in hog roast catering, we offer packages encompassing pretty much any meat you want. With the help of specially designed attachments, our machines can cook chickens, fowl, lamb, beef or even burgers and sausages. This is great for caterers who hire our machines to give a real variety at events across the hire time, and great for catered events when you want to offer more choice of meats. For larger events we cater for, we are often tasked with supplying multiple machines and roasting chefs the cook pork, chicken and beef. Not only does this look fantastic, but offers a great range of choice for revellers.
The Best Hog Roasts In Honiton
At Spitting Pig, our machines and staff can be hired for any event. Our full menus for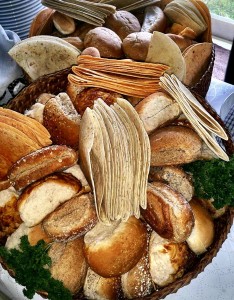 weddings, christenings and parties are varied and delicious, and you can change any aspect you like. You can hire a machine for yourself to try out too with hog roast hire Honiton.  Hog roast hire Honiton is easy. We will deliver the machine to you with a bottle of gas, and pick it up for you whenever you are finished with it. For private parties, many customers choose to hire a hog roasting machine and a hog for an evening and have us pick it up in the morning. Many caterers, however, hire out our Titan or Zeus machines for a longer period of time to cover repeat visits to car boot sales, fairs or their own events. In fact, our machines are such a hit that many caterers end up buying one of their own!
Our service does not end when you buy a hog roasting machine from us, though; if you lose any pieces or accidentally break any parts, just give us a call and we can sort you out with a replacement on the same day. We are always ready to answer any questions about the general upkeep of the machine whether you are hiring or buying and happy to give out any hints or tips. We are proud of our customer service and don't stop helping out just because we've made a sale; we believe service is a commitment and are second to none. So give Spitting Pig a call today and see for yourself how much a hog roast can bring to your event!