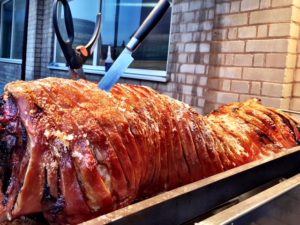 When a special occasion is on the horizon, finding expert catering is one of the most important aspects of the planning process. Guests are always eager to be treated to delicious food, but more often than not, are disappointed with the quality and selection of finger foods on offer. With Hog Roast Launceston, you don't have to worry about a thing. We are one of the leading caterers in Cornwall and have gained an impressive reputation for serving the highest quality hog roasts in the UK. So, what are you waiting for?
Our hog roast services are completely flexible; therefore, we can serve it in any way you choose. For more laid-back occasions, a hog roast roll may be convenient, while more formal occasions may be more suited to a three-course sit-down meal complete with a team of waiting staff. It really is your choice.
What Can You Expect From Us at Hog Roast Launceston?
When booking Hog Roast Launceston, you will have the peace of mind that everything is taken care of – all you have to do is entertain your guests. You can hire one of our professional event's organisers, who will coordinate the entire event on your behalf, including venue hire, decorations and sending invites. Our chefs will take over catering, but you'll be involved with the entire process from the get-go.
What's more, our menus can be customised to meet your needs. Although our hog roasts are a firm-favourite with most customers, we appreciate that not everyone will have the same idea. We're more than happy to whip up any dish that tickles your fancy from any other meat including beef, chicken, duck, fish and lamb, including your preferences of sides and condiments. Those with special dietary requirements are not overlooked. We also serve vegan, vegetarian and gluten-free menus; nevertheless, any of our dishes can be tailored down to the very small ingredients so you're completely satisfied.
All that's left to do is contact Hog Roast Launceston to book us for the day of your event. We look forward to hearing from you.