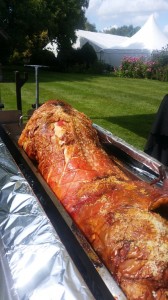 Hog roast Newlyn are offering you the chance to try our fantastic hire service where you take one of our top class hog roast cookers for your next event, we have the right equipment for the job and they really do deliver brilliant results on most food types. Hog roast hire Newlyn use the best cookers around and once you have seen them in action you will agree its a great way to provide very tasty food but with no real hassle as the cookers do all the work all you have to do is baste the meat ensuring that moisture and juices are locked in giving the finest tasting roast food possible.
Hog roast cooking has been around for a long time but with our new range of cookers we bring it back up to date with recent cooking equipment and methods now used in today's cooking and catering scene, we give a taste of something very different for your function and it is more original than the standard offerings of today's catering firms. Hog roast cooking is also a healthy way to cater with no artificial additives or preservatives, our produce comes direct to you fresh and ready as we only source locally ensuring we get the best to you, the only additives we use are the seasoning of choice and that is entirely up to you.
Fresh Ingredients At Hog Roast Newlyn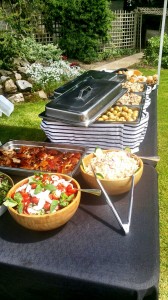 Hog roast hire Newlyn have the best staff in the business and all are highly trained in this form of cookery, we hire you the equipment direct and supply the produce with a full run down on how to use our apparatus confidently so you can feel the same confidence in hosting your own hog roast supper or you can try out our services first and see the roasters working first hand, its up to you. The ambiance a hog roast cooker provides bodes well with any event and if you match the right produce to the right event it helps give the event in question an air of originality you will not find with normal catering firms, cold sandwiches and crisps do not set the senses on fire, unlike one of our traditional hog roast banquets, picture this a hog roasting on a cooker, seasoned with honey and you can smell the delicious pork cooking, the sun is shining and everyone is smiling, see what we mean its the best way to cater and is reasonable too, we are competitively priced, so give us a call you might be surprised. Hog roast Newlyn only use the best staff and the best equipment if you combine our expertise with amazing produce you have the best kind of food around, tasty on all fronts, we have the very best produce at our fingertips but we don't only use pork at our catering events we have a wide range of ingredients available and usable on our cookers. Pork is a fantastic first timer for new customers and we can guarantee one of our quality pigs feeding up to one hundred comfortably so its an easy way to plan events when you are expecting a large turn out but remember pork is not our only type of produce. Minted lamb is a winner for all occasions and is a Sunday roast classic loved by most households across the county and country for that matter, our lamb is slow cooked to perfection, it really keeps the juices locked in, you can't really do this with a conventional cooker but our roasters seal in the goodness and really get the best out of the tender meat, the mint seasoning finishes it off, a great meat for any occasion. We also have lovely local fish available with the county having some fantastic fishing grounds we usually serve up wild trout but sometimes we use salmon seasoned with salt and lemon, another beautiful dish for a wedding event or work function when an air of elegance is required our cookers achieve that for you. We also have white meat choices available as we know everyone loves roast chicken along with turkey too we cook them the best way, these smaller sized produce are ideal for the smaller functions and gatherings. If we have not mentioned a particular variety of produce that you would like for your next event then please give us a call and we will confirm if we can provide it or not. So come on and give us a call and try hog roast catering.