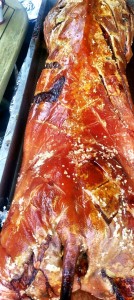 Hog roast Penryn offer amazing catering with a taste of originality because we offer a different style of catering that blows other catering firms out of the water, we do our cooking live and direct with one of our quality hog roast cookers, we cook fresh meats of your choice to a standard you will not have had before, the cookers we use are the best available and cook most varieties of produce to absolute perfection with little or no work on the chefs part, all we do is baste the meat and serve to you when ready, fresh and tasty straight to your plate and diners. Hog roasting is a tried and tested method of slow cooking produce with the aid of a spit, well we bring this old school cooking method up to date with modern cooking techniques and the best chefs in the business, it beats other styles of catering hands down and provides an amazing centrepiece for all your friends and guests to enjoy.
Leaders In Our Field in Penryn
Hog roast Penryn have catered in the local area for some time now and we are an established catering firm, we have ran many events for lots of satisfied customers but if you don't want to take our word for it just check our testimonials, we are confident you will be adding to them once you have tried a quality hog roast supper at your next event. If you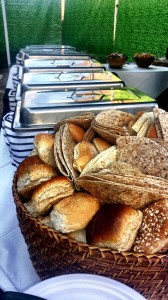 haven't heard of hog roasting you may know it as rotisserie style cooking or as it was once know to many spit roasting, we take this old method of cookery and bring it right up to date with our first class cookers, its a taste of old with a modern twist as our chefs are the top professionals in this field and are all fully trained in using the equipment and up to date with all health and hygiene laws set by today's strict catering regulations, our chefs are also time served and are the best in the business but if you are a keen chef yourself our rental plan might be the way for you to go on a hog roast event. Hog roast hire Penryn know how fashionable cooking has become and a lot of people want to give things a go well you can with our fantastic hire service where we rent you the apparatus and you do the cooking and tasting yourself, you can just take one of our cookers and the produce of choice or you can take a roaster and supply your own meats and seasoning its entirely up to you and don't worry about not using this type of equipment before as our cookers are easy to use and look after themselves the hardest job you will have is carving the meat of choice and keeping the glasses of guests filled, it really is that simple.  Hog roast hire Penryn only use the best equipment and you will see that reflected in the food we serve, the staff we have will give you all the advice and guidance you need to host your own hog roast supper with confidence and we guarantee the best results from our cookers. Produce is obviously important to any style catering event and we only use the very best locally sourced produce for our hog roast suppers, we have some fantastic contacts around the county ready to provide us with fresh and tasty produce whenever we require, we only source locally to ensure that the food we bring is the freshest it can be with no need for freezing guaranteeing top quality food at your next event large or small. Estimating catering can be troublesome we know but we simplify event planning with easy counting methods ensuring no one goes hungry, one of our pigs feeds one hundred guests so if you have a larger number attending just order slightly more, with little or no waste everyone's stomach is satisfied with some of the best catering around. We cover all events from small family gatherings to large scale events such as big family weddings or work functions, we can cover charity events and fairs, we want to bring everyone a taste of hog roast catering as we know how delicious it is. Our menu is wide with choice too so don't just think you are limited to pork, if you have another meat in mind please contact one of our friendly team and we will gladly help you with any questions.