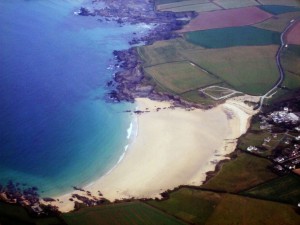 Hog Roast Perranport got underway early when I got the meat roasting about four hours prior to opening.  I brought my Titan hog roaster, which I'd purchased some years back from The Spitting Pig Company.  I used the internal oven for roasting the potatoes whole, and spit roasted the meats after first marinating each one in its own special combination of herbs and spices which I created to bring out the flavour of each different type.
The marinating is easy, especially the pork, as all you need to do is score the meat lightly and rub with olive oil and the marinade mixture.  I even score the potatoes and rub them gently in olive oil and salt. I'm not always sure of the terrain I will be setting up on as occasionally it is grass or even sand, but I tend not to worry about this too much because both my hog roasting machines come equipped with sturdy air-filled tyres that allow for easy access.  The Titan, while durable and hard-working, is very easy to manoeuvre as well as maintain.  It cleans up easily after use and does not rust or corro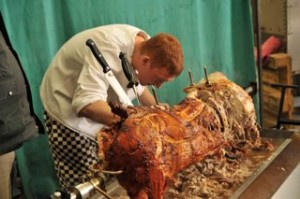 de.
I took some time to help set up a table with the salads, condiments, fresh rolls baked specially from the local bakery in Perranporth, plates and cutlery.  The Spitting Pig's staff always help with the setting up of things as part of what they offer with their hog roast hire Perranport packages.  They are also always turned out perfectly and professionally.
I cater hog roast events nearly every weekend throughout the year, and there are some smaller events where I don't require much more than one assistant.  However, there are a number of events that are either formal, such as weddings, or very large, that require a greater variety or calibre of foods.  This is when I phone up the Spitting Pig Company and I know that whatever my needs are for any particular event, they will be able to easily accommodate me.  Their flexibility is very much appreciated.
I had a chance during the festival to have a wander about and see for myself some of the interesting things that Cornwall has to offer as well as absorb a bit of their history.  Like I said, I'd visited this festival before, but I always find something new to see and hear.  I love the area completely and often take my holidays in and around the southwest coast. Hog Roast Perranporth went ext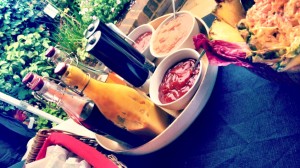 remely well.  It was a busy day and there was not a lot of meat leftover; but what we did have left, I distributed among the staff that worked so hard that day. Again, I have The Spitting Pig Company to thank for their help in making the day a great success.  I have always found catering to be an easy business to make successful.  Maybe I just have a knack for it, but I believe a lot of the thanks for my success goes to The Spitting Pig for assisting me with much of the work that I do.