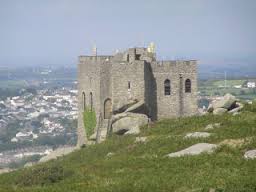 As winter was setting in to Port Isaac, I was asked to cater a wrap party for the cast and crew of the show.  We held Hog Roast Port Isaac on the harbour, near the pub, which can be seen in the show as an area where quite a bit of drama takes place.  But this day, it was a calm, quiet day and I was happy to be a part of the festivities in this beautiful village. I brought along my Titan hog roasting machine, purchased from the Spitting Pig Company a few years back.  It's a beautiful machine, being made of durable stainless steel.  It's an absolute work-horse and can easily handle an 85 kg hog.  Its air-filled tyres ensure that I can park it up wherever I'm needed, no matter the terrain. Hog Roast Port Isaac was expected to include less than 100 people, so I purchased a lovely hog of about 50 kilos to roast.  I got the roasting underway by scoring the meat and rubbing it with a combination of herbs and spices as well as olive oil.  It can take several hours to roast a beast of this size, so I began in the early morning hours while the fog was still sitting just at the edges of the town, floating above the sea.
Though, relatively speaking, there were not a lot of people expected, I wanted to be sure to create a lovely meal for everyone.  Therefore, I contacted The Spitting Pig Company who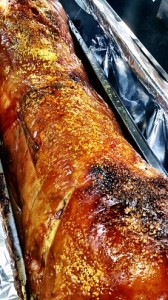 do a fabulous business in hog roast hire Port Isaac where they can offer help by supplying everything from a chef to do the roasting to waiting staff to serve it all.  I asked for a good selection of their fresh organic salads as well as a few members of their waiting staff to assist me.  And they did not disappoint!  As the perfect accompaniment to a roasted hog, they sent along three different choices of salad:  Caesar salad, warm new potatoes with herbs and butter, and carrot and orange with sesame seed dressing.  These were all set up on a long groaning board along with condiments and sauces to compliment even the fussiest eater, as well as an array of freshly baked rolls.  To round off the meal, the director brought along a beautiful chocolate fudge cake, in a large rectangular shape and decorated with all manner of meaningful 'Port Wenn/Doc Martin' icons with a congratulatory theme.  The waiting staff helped with the cleanup and were very professional.  All of this makes the hog roast hire Port Isaac packages offered by the company to be a valuable asset. I'm always happy to meet new people, and especially people whom I admire on the telly!  It was a jovial group and there was plenty of happiness and humour, no doubt engendered by the idea of no more work for a while.  Nobody's happier then when they are facing a nice, long restful holiday. Cornwall remains a personal favourite area of mine and the local people are some of the warmest I've ever met.  I spent quite a lot of time, once the meat was cooked and the food was served, talking with folk mostly about the hog roast business, but also gaining little snippets of information about their way of life in this quaint, lovely fishing village.  It's a close-knit community where people still take care of each other in a way that is sometimes, sadly lacking in the bigger cities.