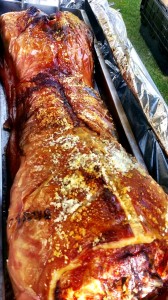 If you like roasted pig served with warm bread and side servings of your choice then this is the perfect catering service for you. The caterers are dedicated showing you and your guest the best of time, they will set up, cook, serve and even clear away. All the pigs are free range and picked and approved by the caterers very own experienced butcher. The hog roast Salcombe can be hired for many popular events such as weddings, parties, birthdays and many other functions. As well as having a beautifully roasted succulent pig you will also be served stuffing which is homemade and complements the meat perfectly, Apple sauce again well made, salads made fresh on the day, hot jacket potatoes and bread produced and baked by the catering team themselves. With 100%positive feedback the hog roast is not something to be missed.
There's no disagreement in where Spitting Pig gets our name from, it's a play on words on the fact that we create the best spit pigs.  The spit pigs are our trade mark, our passion pushed us to making perfect roasted pigs that can't be trumped. To reach the results we do we had to go back to square one, to get hold of some engineers and to make our own flawless spit roasting machines. That's had a massive knock on effect on our catering as with the machines we make other roasted whole meats to go in fresh bread rolls and the results have improved considerably compared to the roasts made with cheaper equipment. Of course, we also get our stock from the best farms which factors in on how our delicious menus leave people speechless. We've also added a menu option of 100% British beef burgers and chef-made gourmet sausages, we don't spit these, we grill them on the griddle which we built into our spit roast machine.
Fresh Ingredients For Hog Roast Salcombe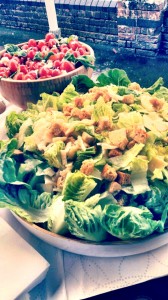 It's amazing having these scrumptious hog roast Salcombe foods and catering for our local clients, because they're always surprised by the quality even though they've heard all about us before hand. We've catered for large events before and the very next week we've been contacted by guests who've had their own event planning to do, and they've booked our catering for their own event. We have an instant impact on our clients, most of the people who hire hog roast machines from us have previously been guests at a catering job we've had, they so much enjoyed the flavour dense food that they tracked us down to get their hands on another roast. We can do it all with our custom menus, you name it, pheasant to kangaroo or zebra, spit roasts to curries, if there's something you'd specifically like making the chefs here enjoy nothing more than rising to the bespoke challenge and conjuring up foods to frenzy your appetite.
Even when there's no catering jobs we're still kept busy with a hog roast  catered service which is really picking up steam as of late. We think one of the reasons that people have taken to the idea of hog roast hire so quickly is because hog roasting is easy as pie, and knowing that we're local the clients who book us don't have to worry about late deliveries because we're only round the corner. And the fact that with our machines the adjustable skewers allow for the cooking of any meat you could care to name, that surely helps too! Or the fact that with your hired machine you can cook a pig in an indoor or outdoor environment, good weather sufficing. There's lots of other merits to hiring a machine over on the machine hire page it is an easy way to save money because you do jot have to pay for a chef to stay for the entire time of the pig cooking so it is very cost effective for those out there that are wanting a simple menu.