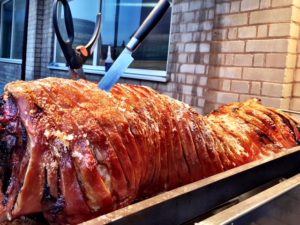 Hog roasts are our speciality, and we always put our full into them. With over twenty years' experience and a veritable army of happy customers behind us we're ready for just about any new challenges that come our way. Catering indoors and out for special occasions  ranging from private barbecues and corporate hospitality  to full on post-Mayfair  and  Regatta crowds  we've been there and done that, so-to-speak. Guaranteed something will come out of left field, then! Our motivated and highly professional teams pride themselves on their tenacity and creativity and always manage to exceed expectation.  Our Event Planners work closely with our customers to ensure your special occasion runs smoothly and leaves a fantastic  impression with any guests lucky enough to have been there. Yes, it really is that good. An hog roast Saltash (or at least your special bit of it) will be talking about for along time afterwards!
Do you have a special celebration to organise? Maybe a much anticipated family reunion… or a business lunch to thank the staff or help clinch that contract you've been chasing? You need look no further than one of our tremendous bespoke dining experiences. What could be more appealing to even the most demanding palates than organic ingredients, speciality sauces (honestly, the apple sauce is amazing!), freshly baked bread and of course a spectacular golden brown hog slowly spitting and sizzling away, turning heads and teasing the taste buds by smell alone..?  It's not unusual for our more adventurous customers to ask us to supply the equipment before having a go at running the roast themselves! Our professional chefs are always on hand to offer a little expert guidance.
Fresh Ingredients With Hog Roast Saltash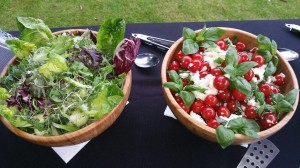 What about any vegetarian guests? We've got that covered too; we'll happily set up a spit roast especially for them.  That way, quite rightly, everyone gets to enjoy the full experience of this mouth-watering culinary adventure. With six full menus and a range of succulent meats from which to choose there is something truly memorable about a real hog roast. Saltash certainly seems to approve!
The one thing we can't guarantee is great weather but with our very own portable lighting rigs and gazebos we can at least ensure nothing rains on this parade… day or night! From initial planning meetings through to the big tidy up after the event we'll take care of all the small details so you don't have to.