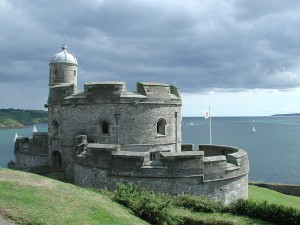 We offer hog roast St Mawes, an excellent catering service tailored to the needs of the individual client. We guarantee the highest standards of customer service and the best hog roasts you'll find anywhere. We provide decorations (including balloons), bread rolls, serviettes and condiments. Here at hog roast St Mawes, we use apple sauce and spices to bring out the hog roast's distinctive flavour. All our hog roasts come with crackling, which we achieve by rubbing sea salt into the skin after it has been covered with a light olive oil. Our hog roasts also have a sausage stuffing.
We also offer hog roast hire St Mawes, a service where clients hire hog roast machines from us and do the rest themselves. Some clients with more of a do it yourself attitude prefer this, as it gives them more control, and I'm told it's a lot of fun to do it yourself. Some clients also find that hog roast hire is more suitable for informal events. We have a lot of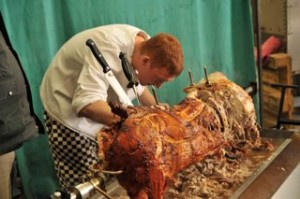 dedication and experience so whether you're looking for hog roast St Mawes or hog roast hire St Mawes, we're the team for you. Catering around St Mawes is always interesting, and every day brings something new. I get to meet so many nice people and that is definitely one of the pleasures of this line of work. But I think my favourite part of being a hog roast caterer is carving and serving the roasts and seeing people enjoy the food we worked hard to prepare for them.
Today we delivered a hog roast machine to an engagement party in a local pub. I plugged the machine in and checked it was working, as we always do here at hog roast St Mawes. We were chatting with the young couple and assorted relatives, and I came to know that one was a graduate looking for work (currently waitressing to get by) and the other was a legal secretary. We got chatting about the wedding and I told them a couple of anecdotes about weddings and civil ceremonies we've catered for, and how some couples are choosing to wait until equal marriage gets pushed through. (They were both women and said they'd prefer a marriage to a civil partnership).  Then it was time to return to our premises where, down in the kitchens, a hog roast was almost finished. It looked quite stunning, as they do when they're finished. We loaded boxes, a machine and the roast into the van, and drove off to a community centre. The clients were celebrating opening a new local business with all their friends and family. The business was something to do with IT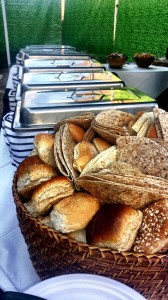 or something. We met the clients at the community centre and soon we were putting up balloons and moving tables. A short while later we had everything sorted and finally we plugged in the hog roast machine and put the hog roast in it. It turned, gleaming red and giving off a delightful aroma of warm roast hog.
"It smells good," observed one of our clients (let's call him 'Davey'). There was still a while to go before most of the guests arrived (though immediate family and a couple of friends were already there, chatting in clumps of two or three people, and admiring the hog roast). Davey and 'Jessie' told me a bit about their business and how they had developed software to help computers interact with each other, and the implications for organizing files and CV parsing. Jessie also told me that nobody can be anonymous on the internet unless they're using a virtual private network. See, I said hog roast catering is interesting – you never know who you're going to meet and what you're going to learn.
St Mawes is a town which lies on the east bank of the Carrick Roads, a huge lake which resulted from the rise in sea levels after the Ice Age, when a valley became filled with water. It's sometimes claimed to be the third largest natural harbour in the world. St Mawes castle dates back from the time of Henry VIII. It is a coastal fortress. St Mawes resides in the beautiful Cornish landscape – a place so beautiful it has been designated an 'Area of Outstanding Natural Beauty' which means it enjoys the same status and protection as a National Park. Among St Mawes' residents are TV presenters Noel Edmonds and Barry Bucknell. We do hog roast catering around St Mawes.