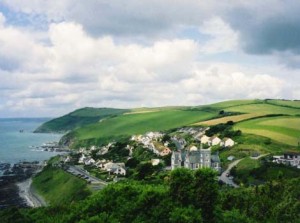 Hog roast catering around Torpoint brings something new each day. It's always interesting. You get to meet a lot of people in this line of work, and they are usually all nice to talk to. In fact, I've never done a job I didn't enjoy.  We offer hog roast Torpoint and hog roast hire Torpoint. Hog roast Torpoint is a full catering service including balloons, bread rolls and serviettes as standard. We use our own recipe for all our hog roasts, with spices and applesauce. All our hog roasts have crackling and a sausage stuffing. Clients who have a more 'do it yourself' attitude might be interested in hog roast hire Torpoint, a hiring service where you can hire a hog roast machine and do the rest yourself.
Today we delivered a hog roast machine to the office of a non-profit magazine. We hauled the machine out of the van, wheeled it into the office and then it got a ride in a lift. Then we found the room and plugged it in. There were some staff members in the room, drinking red wine. They already had a hog roast in the room and e helped them put it in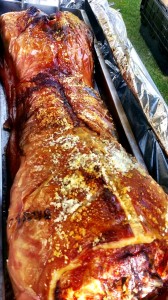 the machine. I got talking to one of the clients and asked her a bit about the magazine. She explained that it was a feminist magazine and the goal was not to make a profit, but to put all profits back into the magazine and spread the word. She also said that people think all feminists are against things like pornography, but that isn't true and that's not what the magazine stands for at all. Some feminists actually fight for the labour rights of workers in the adult entertainment industry. I guess you learn something new every day. She said they were celebrating the magazine becoming international (through online subscriptions) and doing very well in certain countries. It had only been founded three years ago. After that, we went on to deliver another hog roast machine to a couple who were celebrating ten years together at the community centre. A few of their friends were already there, milling about. There were a few interested glances towards the hog roast machine. After we'd wheeled the machine in and plugged it in, we got talking to them. They had been together ten years and married for five years; they had actually met during a car crash. I thought this was the best story ever! I've heard a .lot of incredible, funny and touching stories from talking to clients, but this I think is one of my all time favourites. They told me that the wife had instantly been struck by the lad emerging from the smashed-up Ford, and had got talking to him and asked for his number. And the rest, as they say, is history.
We returned to our premises and I was bogged down in paperwork for an hour. I could hear the chefs and kitchen assistants running about downstairs and I knew why – they were preparing a hog roast for a birthday party that we were due to cater for in a hotel. I got on with the rest of the administration, and after a while it was time to go. We loaded the van with boxes of decorations, wine, and of course the hog roast.  At the hotel we quickly put up the balloons and laid out the bread rolls and condiments on the tables. Then the guests arrived and we were filling glasses. After that we carved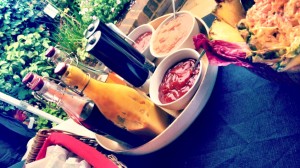 and served the roast. It was a great night and everyone had fun.  We even got a tip. Catering is fun!
Torpoint is a small town on the Rame Peninsula; it is called 'Penntorr' in their language. The name 'Torpoint' means "rocky headland". The town was also nicknamed 'Tarpoint' at one time due to the industry in the area. Torpoint was planned in the 18th Century and its population grew as dockyard workers settled there. Today Torpoint is connected to other towns by chain ferries which are pulled by chains that lie on the river bed. The town has a football club, Torpoint Athletic F.C. Torpoint is twinned with Benodet in Brittany, France. Because Torpoint is close to larger towns while still preserving the atmosphere of a quiet rural town, it is an ideal place to live for those who want the convenience and socialising opportunities of city life without all the pollution, crime and noise of the cities.