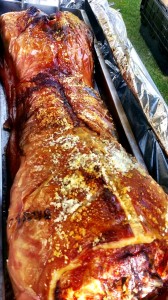 A hog roast is the perfect choice for those wishing to select something a little more unique for their event. One of the best things about hog roasting in a town such as Totnes is that it provides something a little different in an interesting location. Nothing beats tucking into a traditional hog roast dinner or sandwiches whilst taking in the town's fascinating sights.  There are so many benefits to opting for a hog roast for your event that you can't go wrong. Not only do you get to enjoy the best quality hog roast but you are also provided with a service that will enable your event to run smoothly. Many people worry about making an impression on their guests when it comes to organising an event, but with hog roast catering, you do not need to worry. The food is great, your guests will be entertained and the service is friendly, efficient and affordable.
The menus available for hog roast Totnes make any event worthwhile. You can select an option that is not only high in quality but also in quantity. A hog roast menu offers plenty of options and the meat itself is enough to feed a large number of guests. There are menus available for many different types of events, from small, private gatherings or corporate gatherings to larger events such as weddings.  If you wish to save money, then hiring is an option. Rather than having a hog roast machine for a day, you can hire one for a week at a low cost. Operating your own hog roast machine is not only satisfying but also profitable for pub owners or restaurateurs. With hog roasts becoming more and more popular, your guests will flock to you once they read the news about your hog roast hire Totnes event. There is no better way to get your business known and offer something a little different to other establishments than with a hog roast.   If you wish to relax completely for your event, then everything can be done for you. When you pay for hog roast catering, your meat is not only cooked for you but also carved and served to your guests. You are your guests can sit back and focus on enjoying the flavours provided by the juicy meat. With such a great service on offer, you can throw the best hog roast Totnes event imaginable.
The Best Event Catering In Totnes
Whether you wish to hold an outdoor event and enjoy the interesting scenery and historical landmarks that Totnes has to offer or are planning a formal indoor event, hiring your own hog roast machine will enable you to provide your guests with only the best. Hog roast hire Totnes is perfect for any occasion, whether it's a backyard barbecue or a large indoor event for over a hundred guests. Hiring a machine not only enables you to slow cook a variety of meat to perfection but also saves money on providing entertainment, as the roasting meat automatically creates conversation.  Making your event stand out from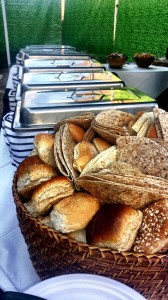 others can be difficult, but with a hog roast, everything is done for you. Your guests are well fed and entertained, leaving you with little work to do. With so much on offer, you will not regret selecting a hog roast for your Totnes event and you can guarantee that your special day will be one to remember
Totnes is a market town that is surrounded by beautiful countryside. It is known for its long history and listed buildings, which include the Norman Totnes Castle and St Mary's Church, both of which are grade I listed buildings. Other notable landmarks in the town include The Leechwell, a set of springs that were used by townsfolk to heal skin and eye conditions. Over the years, the Leechwell walls became damaged, but parts of them still stand.  Totnes has a thriving New Age community and attracts many artists, painters and tourists. The town's history can be explored in its two museums. The Totnes Costume museum houses a collection of 18th-20th century historic costumes and the Totnes Elizabethan House Museum contains artefacts and paintings, some of which date back to 5,000BC.  With its selection of historic buildings and alternative community, there is no doubt that Totnes is a unique town. Described as "funky" and "charming", Totnes is definitely a top location for those wishing to organise an event that will be memorable. The scenery and atmosphere are important factors when throwing special events, but you will also need to think about the food too..