Hog Roast Launceston has had the pleasure of catering in all kinds of lovely locations over the years, from posh hotels to country barns, by the sea and in pretty back gardens. We recently catered at Roadford Lake and it's a stunning place for events and weddings, as well as somewhere to walk or cycle around, discover nature and wildlife and enjoy a picnic. The lake and its surroundings can be found in the Wolf Valley, north-east of Broadwoodwidger and just a few miles from Launceston itself, so not far for us to travel to, to cater for 200 guests.
For this particular event, we were asked to cook our Southern Slow Roast Menu, which is a popular menu full of variety to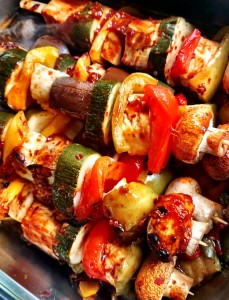 please different personal tastes. You can choose 3 marinated meats and 4 side dishes to be served, and we even include a vegetarian option. At Roadford Lake, we would be cooking our barbecued pork, spiced chickens and spiced lamb, and serving together with mac and cheese, baked potatoes, potato wedges, and a Greek salad. We were asked for a vegetarian option of veggie skewers as well, which we grill and are full of tasty vegetables including mushrooms, tomatoes, peppers, red onion, and courgette, and come with delicious pieces of halloumi too.
On the day of the event, our Hog Roast Launceston Catering Manager Charlie and his team arrived at the gorgeous venue several hours before food service, to set up our equipment and then start cooking the pre-marinated meats. We roast them all low and slow, so at a low temperature and for hours and hours, until we get a trio of meats that melt in the mouth, and so we did on this day. Once the pork, whole chickens and lamb were all set cooking and sizzling away nicely, all we had to do was keep an eye on them, to ensure they cooked through and through.
Later on, Charlie and his team ensured the hot side dishes and veggie alternative were all cooked to perfection, then prepared the Greek salad with plenty of fresh pieces of feta cheese, olives and tomatoes, sliced the bread rolls, and dished up the sauces and by 6pm, it was finally time for Hog Roast Launceston to satisfy the guests' hunger.