With one of our specialty Hog Roast Milcombe standalone menus, you can impress your guests no end, regardless of the type of special occasion you're planning or its formality. From casual get-togethers in your back garden to posh events in luxurious venues (once the lockdown rules have completely relaxed), these menus are all visually stunning, smell gorgeous and taste sensational, and will have all your guests queueing up for seconds or more.
Our new Hog Roast Milcombe Alfresco Menu is a great way to end lockdown with friends and family but just as great to enjoy together with workmates, colleagues or customers. You get to devour a traditional hog roast but you and your guests first get to relish our antipasti platters at your tables, full of artisan breads, cheeses and fine Italian meats, as well as extra virgin olive oil and balsamic vinegar. Alongside the hog roast, which we serve compete with crackling, apple sauce and stuffing, we also serve your choice of potatoes and no less than three salad dishes, and then follow with two delicious desserts.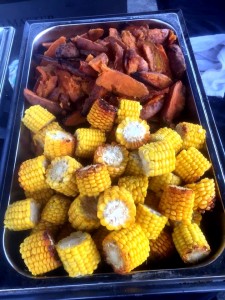 You may well prefer us to serve our Hog Roast Milcombe Southern Slow Roast instead, where you get to choose three marinated meats (which we slow-roast on the day for several hours) to serve together with four hot or cold sides. Choose three from minted lamb, sticky pork ribs, Cajun chicken, barbecued pork butt and beef brisket and four from roasted baby new potatoes, mac and cheese, potato salad, corn cobettes, seasonal vegetables, coleslaw, salad or a mixture of fries, and there you have it – a delicious menu to suit all of your guests.
With our Loaded Fries instead, you get to enjoy fries topped with brisket of beef or pulled pork, a spicy or zesty slaw and melting cheese, while our traditional BBQ Menu is full of meaty goodness, including gourmet sausages, handmade British beef burgers, spare ribs and chicken kebabs.
Whether you fancy a good old traditional hog roast, spit-roasted meat or one of these amazing standalone menus, we've got you covered, with something for everyone – and that includes those on special diets too. Just ask our team how we can help make your next party or event a great success!