Ryan and his partner Kirsty held their New Year's Eve celebrations at their own house this year and they hired the Hog Roast Padstow team to help them. The couple are parents to three young children and many of their friends also have young children. Therefore, their children were old enough to stay awake until midnight to see the New Year so they held their party and fireworks display a little earlier in the evening and so the Hog Roast team provided a dinner time meal for the couple and their guests.
   The pair selected one of the simpler Hog Roast Padstow team private party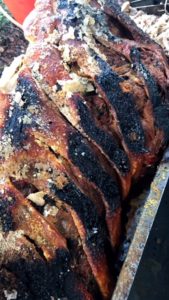 menus as they did not have a large guest lists and many of the guests were children who would not eat large amounts of the buffet. Ryan and Kirsty chose Menu One which consisted of a whole roasted hog, cooked to perfection in one of the team's Hogmaster machines. The meat was served with apple sauce, stuffing and crackling with complimented the roasted hog well. In addition, lightly floured soft bread rolls were served alongside the meat to work alongside the casual atmosphere of the party. Alongside the roasting of the meats, the Hog Roast Padstow team carved the meat and brought along their own tables and equipment to use. The guests appeared to love the buffet and they had no trouble finishing it off as the Hog Roast team worked tirelessly to deliver the buffet on time.
   Once the guests had finished the buffet, the Hog Roast Padstow team quickly and discreetly cleared away their equipment and took away the waste from the buffet. This allowed Ryan and Kirsty to set up their early fireworks display for their friends and family to enjoy. The fireworks display was fantastic and all the guests enjoyed them as it was a great way to finish off the party. All of the children that had come along had a great time and also enjoyed the roasted hog. Overall, the night turned out to be a fantastic party by Ryan and Kirsty and they thanked the team for their hard work.