After a busy year for her business, Racheal reached out to Hog Roast Churchtown, wanting to do something nice for her employees. We suggested a few options of catering packages that may be a good fit, before deciding that a business brunch would be the perfect event to host!
Racheal owns a start-up business that she began 5 years ago, selling boutique clothes, jewellery, shoes and accessories. Over the years her businesses has grown and grown, and she now has 3 boutiques in London, with almost 30 employees between them. It is important for Racheal to give back to her staff, as she knows her success would not happen without them. So after a busy Christmas period, she decided to host a business lunch, catered by Hog Roast Churchtown, for herself and her employees.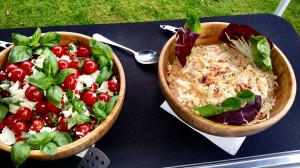 For the lunch, we provided a selection of chicken and turkey, served in bread rolls and wraps. The meats were roasted to perfection by our team, leaving them succulent and juicy once carved. Along with the rolls and wraps, we served fresh salad options, seasonal vegetables and a variety of hand-crafted sauces. Racheal also chose a few side dishes: potato wedges, homemade stuffing and mac and cheese.
The event was casual, with food served buffet style to our guests. All of the dishes were cooked freshly on-site, using only the highest quality ingredients. Hog Roast Churchtown provided tableware for the lunch, including silverware and crockery. After the meal had been enjoyed, we removed our equipment and rubbish, leaving the venue looking exactly as it did before we began.
Racheal was incredibly pleased with the service we offered, and it was clear that both herself and her employees enjoyed the lunch. It was a perfect opportunity to spend some time together in a relaxed and informal way, rather than in the usual workplace setting- and it was the perfect way to ensure her employees feel valued for the time and effort that they put in when they go to work!
Are you interested in booking your own business lunch? If so, get in touch today through the enquiry form on our website.