Hog Roast Bideford are able to cater at quite literally any and all types of events. Whether you are in need of someone to cater a wedding, birthday, christening or even a funeral Hog Roast Bideford are here to help. We can also cater for corporate events and charity functions, just get in touch with our team and we can begin planning your perfect menu to suit your event!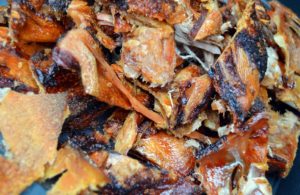 This Saturday Hog Roast Bideford were catering at a local car boot sale! This is not something we have done before but we have to say the atmosphere was fantastic and it made for a truly enjoyable day for the whole team. Although this car boot sale is held every weekend the sale organisers told us that they tend to get particularly busy with more stalls setting up after the festive period. This is due to all the kids getting new toys and deciding to sell their old ones for a bit of pocket money, the same goes for the adults!
Held in Bideford's old farmyard the car boot sale attracted visitors from all of the surrounding areas and was set to be a busy day. Hog Roast Bideford was tasked with providing fuel for the sellers and drawing in the customers, something we are good at! Just the aroma of a hog roast slowly cooking away is enough to make the mouth water and to draw in anyone in a five-mile radius!
Starting bright and early at 6am with the stall holders to set up we had a long day ahead of us. Once the sale opened it was nonstop! We served breakfast rolls of butcher's selection sausages and bacon smothered in your choice of ketchup or brown sauce. This was followed by a lunch of slow roasted hog roast rolls topped with layer upon layer of crispy crackling and finished up with a dollop of our Hog Roast Bideford homemade applesauce. Delicious!