Hog Roast Truro is a team of dedicated professionals who love what they do, from our friendly sales team who first take your phone call to our highly-qualified and experienced chefs who prepare, cook and serve your delicious food on the day of your event or party. We cater all over Cornwall and beyond, too, as we are based all over the UK, and offer plenty of food choices to our customers. You may be planning a posh wedding reception with several sit-down courses and champers and canapés served by our waiters to welcome your guests. Or perhaps you're thinking of an informal retirement party in your back garden at home, with just a few people invited over for our simple but delectable hog roast rolls. Maybe it's your partner's milestone birthday coming up and you want to surprise them with a lovely hot meal of meat, vegetables, and potatoes in the gardens of your favourite local hotel. Hog Roast Truro can easily do all this and so much more.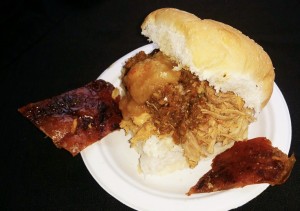 We recently catered Lesley's garden party in Truro, which you may know as Cornwall's only city. For the 80 people invited to the event, we were asked to cook our scrummy pigs in buns for most of the guests. That's what we call our hog roast rolls – lovely, soft, floury bread buns crammed full of moist pieces of meat, salty crackling, our tangy apple sauce and our tasty stuffing – both made to our own recipe. Lesley also asked us to cook fresh vegetable skewers for the veggie guests. We have plenty of options available for any guests with dietary needs, from vegan to gluten-free, and as long as we have advance notice before your event, we will make sure no guest goes hungry. Even if you're gluten-free, you can still enjoy our pigs in buns, just like Lesley's guests, as we bring along suitable bread rolls.
Whether you're a Truronian or you're local to elsewhere in our lovely county, or further afield, Hog Roast Truro will provide delicious food at an affordable price, and it'll be food that your guests will remember for years to come.