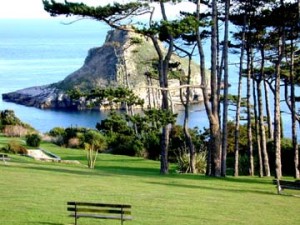 At Spitting Pig, we specialise in hiring out our machines and catering services for these sort of events like this hog roast hire Buckfastleigh one; large groups of people whether that be weddings, birthdays or christenings. We know how difficult it can be to organise the catering for big celebrations, and we make it easy. You need waiting staff? Ours are specially trained. You want someone to carve and prepare the food? Then hire one of our chefs. We will wait on your guests and deliver then delicious, freshly made food straight to their tables, leaving you to worry about other things. Our menus are varied and mouth-watering, and you can change them as you wish. Vegetarians, vegans, gluten-intolerant; all restrictive diets can be catered for. Just give us the details and we will do the rest. Saying that, the roasting chef and I have already catered for smaller hog roast Buckfastleigh events before this one, including a 20 person-strong lunch for an energy commission group. Hog roasts are great for big and small parties; just let us know how many people you are expecting and we do the math.
With the popularity of hog roasting rising all the time, it's no wonder that we are receiving more and more orders from smaller towns such as Buckfastleigh in the south of the country. At a recent event, I was tasked with playing catering assistant to a hog roasting chef hired for a private party expecting around 100 guests. While I was preparing a buffet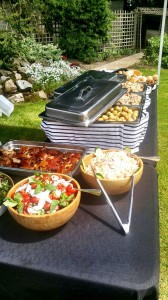 from fresh for our client, she told me some history of the area. The famous Sherlock Holmes story Hound of the Baskervilles, she tells me, was actually based around a legend attached to the grand Brook Manor house I saw on my way to the event. The Lord of the Manor in the 1650s supposedly roused a series of black hounds on the night of his death, which ran all over the moors and the house howling and breathing fire. She also notes that a mysterious black hound has been sighted in the surrounding countryside on certain evenings of the year, and howling can be heard from the manor house.
Spooky as the tale was, I knew there was no chance of the party being crashed by fire-breathing spectral dogs with the morale-boost a whole roasting hog would give the guests. When guests began to arrive, I was – as always – delighted to see everyone who came through the door brighten up at the sight of my roasting hog turning on the spit, and neighbouring buffet tables just brimming with delicious, freshly prepared sides, nibbles and desserts.
The quality of a whole roasted hog is excellent. We source all our meat from organic and local butchers so you can expect the finest pork. We simply mount the whole pig on the spit of the machine, scoring it as appropriate, season the hog and begin to cook. It depends on the size of the pig, but it can take from six hours for the whole hog to be fully cooked. This time is essential; good things come to those who wait. The machine slowly roasts the hog to perfection, the heat permeating through the skin leaving a delicious crackling on the outside and perfectly cooked pork on the inside. The turning of the spit makes sure that not a single area is overlooked, and the result is a gorgeous slab of meat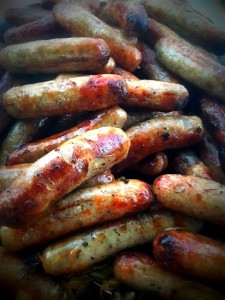 that is a real joy to carve. The taste, of course, is wonderful. You can't get that from anything else.
The host for this party had initially requested multiple roasted chickens for her guests, but changed her mind at the last minute. One of the best things about our machines is that last minute changes to the menu are easy to deal with, thanks to a number of attachments for the machine which can be put on or taken off without fuss. Chicken, beef, lamb, even burgers and sausages can be cooked on our machines.
For hog roast hire Buckfastleigh, you've come to the right place! We offer the finest hiring service in the country, and are proud of it. If you don't need to hire our staff or just want something different to your barbeque, you can hire a machine and cook a whole pig all by yourself. And don't worry if it's your first time; we issue every machine with a bottle of gas and full instructions. Our models of machines can be viewed right here.
So email or ring us today and let's make you hog roast Buckfastleigh event one to remember.