This week Hog Roast Bude had the honour of being invited to cater at a golden wedding anniversary party. Kevin and Linda had been married for fifty years now and their family and friends thought they should celebrate such a milestone occasion, we had to agree!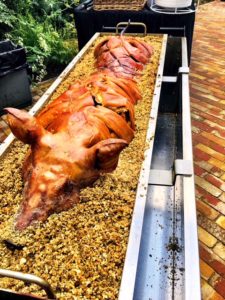 We were contacted by the couple's daughters who wanted us to prepare something truly special to help their family celebrate. Our Hog Roast Bude head chef was able to design the perfect menu encompassing all of the family's favourites. We planned to roast a whole hog in traditional Hog Roast Bude style. As always, we would be carefully scoring the skin before adding sea salt and water and massaging the skin in order for it to crisp up deliciously and become a lovely golden colour when cooking in our machine. To go with the hog, we also marinated some whole chickens in Cajun spices which we would be spit roasting whole at the family home. Our accompaniments for the afternoon were lots of homely sage and onion stuffing, our sweet and chunky apple sauce, lots of corn cobettes smothered in butter and a couple of our most vibrant salads.
We arrived at Kevin and Linda's home mid-morning in order to begin our Hog Roast Bude preparations. First things first we set up our handy gazebo in the decked garden. Although our Hog Roast Bude machines are suitable for indoor use, in this case, there was not enough ventilation within the property so we decided outdoor catering would be the best option. Next, we put the hog onto roast. A medium sized hog like the one we were cooking today can take several hours to roast and even longer if you want the meat to be the most flavourful and succulent it can be, hence we always leave plenty of time for this to cook. With everything set up all that was left to do was keep an eye on the hog and await the arrival of the golden couple!