Every five years the group of ex-school mates the Hog Roast Ivybridge team met recently organise a reunion so they can all get together and reminisce about their school days. They couldn't believe it, but incredibly this year it was their 20th anniversary of leaving high school! They decided they needed to do something extra special to mark the occasion, which is why they hired us to do the catering!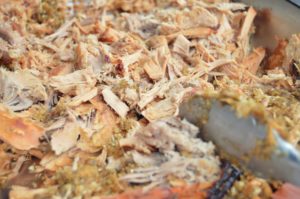 They decided on some of our trademark slow-roasted pork served with bread rolls (including a gluten-free option), our super crispy crackling and homemade apple sauce, along with a tasty selection of freshly-made salads and a veggie option for the non-meat-eaters in the brigade.
Because here at Hog Roast Ivybridge we are committed to making everything from scratch on the day regardless of where we are cooking or how many people we are cooking for, we arrived at the venue on the morning of the reunion party to get our preparations underway. When we got there, we found a few of the reunion members decorating the venue with old photographs and mementos of days gone by (there certainly were some interesting hairstyles on display!). As always, we never get in the way of the other preparations taking place, so we got our streamlined equipment settled into our designated cooking area and set about bringing all of our fresh, locally-sourced ingredients to life!
As the party got underway, there were some appropriately nostalgic nineties tunes booming out and it wasn't too long before everyone was taking about old times and having a boogie in between dashing to our serving table for another helping of our delicious pork! It was great to see everyone having a good time and even better to think that despite going in different directions in their lives, everyone had stayed friends for all these years.
We're glad the old school chums had such a good time for their 20th anniversary reunion and we're especially glad about how much everyone enjoyed Hog Roast Ivybridge's freshly prepared party buffet and unbeatable slow-roasted pork!