For over twenty years, Hog Roast Camelford have been providing their world class service to couples who have chosen to tie the knot and they've gotten so good at it that they could do it in their sleep. This week was no exception as the team had been asked to cater for a wedding reception with 60 guests. They were first contacted by Jack, the groom, who had a few questions about the types of services we offer. After an initial inquiry, Jack and his wife to be Linda came into see us and we gave them a sample of our famous hog roasts so they could try it for themselves.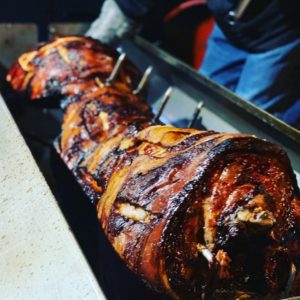 After one bite they'd fallen in love and decided to hire us for their wedding, but they wanted the Spit Roasted Pig instead.  We finalised a few more details, such as the side dishes to be served along with the mains, choice of desserts, venue, date and time, before shaking hands with the happy couple to be, and saying goodbye to them until their big day would arrive.
And it soon did! The wedding service was being held at a nearby church at 3PM. Our team from Hog Roast Camelford arrived at the venue for the reception – a spacious function room with a separate kitchen space for caterers to use – by 11 AM in order to begin the slow cooking process. Like Hog Roasting, the art of spit roasting is a slow cooking process that gently cooks the meat to perfection over the course of several hours. However when spit roasting, the meat is turned constantly throughout, meaning its natural basting fluids are dispersed evenly into the meat, making it the most succulent pig you've ever tasted.
The guests arrived at the reception venue by 4PM and were served an hour later. The Spit roasted pig was served onto real plates with an accompaniment of a seasonal veg medley, roasted new potatoes and a homemade onion gravy. A Sticky Toffee Pudding dessert was also served later, before the team from Hog Roast Camelford tidied away their mess discreetly and disposed of any waste offsite.