This week, the team from Hog Roast Newlyn provided their first class service to a group of twelve women that meet up once every fortnight, for a discussion about a particular book that they've all been reading. Book clubs have proved to be quite popular for many years now, but this is the first time we've been asked to cater for such a lovely event. The ladies wanted a Hog Roast with their discussion this week because it would be the last time they met until after summer, and so they called the team at Hog Roast Newlyn to ensure it was a special event.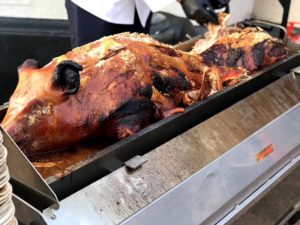 It may be surprising to hear that we cater for such small amount of people, but the truth is, there is no minimum number of guests required for us to cater for your event. We discuss everything with you beforehand to ensure that we know exactly what you're after, and what we need to do to make it so. We spoke with Helen, the host of this week's book club and hog roast event. She told us that they wanted a hog roast served in crusty bread rolls with a selection of sauces, or as we like to call them our pigs in buns.
The key to our success over the years is our tried and tested slow cooking method. The art of roasting a hog slowly over the course of several hours, allows the meat to absorb its natural basting fluids, resulting in a succulent taste rivalled by no other. We also prepare all of our food on site using only fresh, raw ingredients. We therefore always make sure to be on site with enough time to allow for the slow cooking process, a few hours in advance of the serving time. Today we were at Helen's home by two o'clock, and we served at six.
The ladies enjoyed their pigs in buns as they discussed Emily Bronte's Wuthering Heights. After serving the ladies, our chef from Hog Roast Newlyn left them to discuss their book and tidied away his mess discreetly.