If you're looking for a catering service that ensures that everyone invited gets to enjoy fresh, tasty, wholesome food, regardless of personal taste or diet, look no further than Hog Roast Mawgan Our hard-working professionals will create a feast for the eyes and the senses, and not just with our hog and spit roasts, as we have an abundance of options available to suit all kinds of palates and dietary requirements, with various mains, starters and desserts available as well as a whole host of handmade canapés and hot and cold side dishes. Whatever you are planning and whatever kind of menu you have in mind, we will certainly do you proud.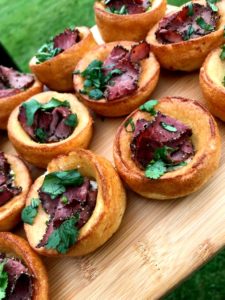 Hog Roast Mawgan recently catered Rachel's 30th birthday party, where she had asked us to cook a sumptuous hog roast for the main event but she also needed additional dishes providing too. Well in advance of her special day, we worked together with Rachel to create a bespoke menu, featuring a selection of waiter-served canapés to welcome the guests together with refreshing drinks, some sides to complement the pigs in buns that we would make from the hog roast, as well as a vegetarian main course of veggie skewers.
It came round to Rachel's milestone birthday yesterday and Hog Roast Mawgan cooked up a storm for her and her fifty guests, at a local boutique hotel. Early afternoon, we set up our hog roasting machine, serving table and gazebo outside in the lovely gardens, and soon had the fresh, local meat sizzling away slowly but surely for hours on end.
Later on in the day, our chef and team members worked hard to create the scrumptious canapés, and we served Peking duck wraps, roast beef in Yorkshire pudding, feta skewers, halloumi kebabs, smoked salmon and wild mushroom bouchees to Rachel and her guests, along with soft drinks, water and glasses of bubbly.
By 6.30pm, it was finally time to carve the hog to serve pigs in buns to most of the guests, and veggie skewers to the vegetarians, and all the guests could also enjoy our fresh homemade coleslaw, tomato and mozzarella salad and spicy sweet potato wedges. No one went hungry at this feast!