Here at Hog Roast Saltash there is no limit to our culinary capabilities! Whether you are looking for a formal three course meal or a more casual buffet option, Hog Roast Saltash are the caterers for you. Thanks to our hardworking team of professional chefs and friendly waiting staff not to mention our trusty hog roasting machines, anything is possible!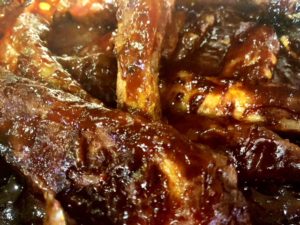 This week we had been contacted by Patricia who was looking for someone to come and provide some food for her Tai Chi students! For those who don't know Tai Chi is an ancient Chinese martial art practiced for both its defence training, its health benefits and meditation. Patricia thought her students had worked hard and so wanted to treat them with a Hog Roast Saltash.
Our catering manager, Charlie, was tasked with organising our Southern Slow Roast menu for twenty-five people and a seven 'o' clock serve time. Our southern slow roast menu is a little different to our classic menus in that it incorporates tastes from across the Atlantic, offering our signature slow roasted meats with lots of mouth-watering flavours. As part of this menu you get to choose three different meats that are all roasted low and slow and always marinated in our secret recipe rubs before hand- meaning they are truly delicious. Patricia had chosen our BBQ Pork Butt, Cajun Spiced Whole Roast Chickens and Creole Pulled Quarter of Spiced Lamb. Also included in this menu are some spectacular accompaniments and Patricia chose our Memphis Style Crunchy  Coleslaw, Corn Cobettes Dripping with Warm Melted Butter, a Seasonal Green Leaf Salad and some Skin-On Southern Style Whole Baked Potatoes!
As part of our service we provided all the disposable crockery and made sure to stay until the end of the event in order to clean up and wrap up any leftovers to be enjoyed in the following days.