Recently, the Hog Roast Hayle team were hired by a corporate client. The event was organised by Rob for Normanhurst Enterprises, Ormskirk. The event was being hosted at the Atlantic Coast Holiday Park in Gwithian, Hayle. The food was prepared and cooked on site and was served as a buffet to Rob's guests.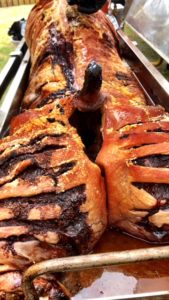 Rob had selected for the Hog Roast Hayle team to serve their Menu One to his guests. The menu featured a classic whole hog which was slow roasted in one of the team's Hog Master machines. The meat was served with the traditional sides of homemade stuffing, fresh apple sauce and crispy crackling from the hog's back. The meat was carved professionally by the team's Catering Manager and laid out beautifully on the buffet table. The Hog Roast team also served sausages as a side on the buffet, An alternative option was served to the vegetarian guests which consisted of grilled chunky vegetable and halloumi wraps which were served with pitta breads and a Tzatziki dip.
The buffet was served to 100 hungry guests who all seemed extremity satisfied with the food that they received. The food was served in a long afternoon service from 12pm to 2pm to ensure that all the guests had plenty to eat. This also created a really relaxed atmosphere as the guests could return to the buffet table at which for second helpings. The service was led the Hog Roast Hayle's hard working Catering Manager, Charlie, who ensured that all of the food was perfectly cooked. The team helped to create a great bubbly atmosphere and chatted with Rob's guests. The food was served on disposable crockery and cutlery so that there was no hassle for the event organisers as the team cleared all of the rubbish away after the service. This also served the organisers from finding the facilities to wash crockery. The team also provided their own equipment so Rob did not have to lift a finger. Overall, the Hog Roast Hayle worked really hard to deliver a great service and were really proud of the food they delivered to the guests.