Hog Roast Rock were recently enlisted to cater for the grand opening of a local brewing centre and ale bar. We readily agreed as a few of our team members are themselves keen ale drinkers and had been anticipating the opening of the bar so we knew plenty of the locals would be too!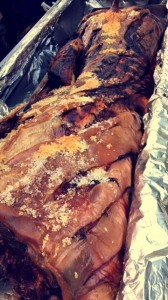 Now, with a grand opening first impressions are what matters most and so the Hog Roast Rock team knew it would be all hands on deck to prepare a delicious meal to entice customers in and make a brilliant first impression of the place. The owner, Matt, told us that for him nothing goes better than a freshly brewed beer and a hog roast sandwich which was why he had enlisted our help. He envisioned the smell of our slow roasting hog to waft out into the streets and encourage people to come in and try out his bar. When he said this, we knew we were the right people for the job and set to work…
A large hog was prepared, and our head chef made sure to score the skin and rub in lots of salt that would create the crunchy crackling that customers adore. We would be serving the hog in the simplest yet most delicious way with freshly baked floured rolls and plenty of our homemade applesauce and stuffing accompaniments.
With the ribbon cut and the bar officially open guests started to flood into the outside terrace that had been our kitchen for the day. With a huge queue forming that snaked from the bar where everyone was sampling Matts home brewed beers to our station where we served up Hog Roast Rock's signature hog roast sandwiches. It's safe to say everyone had a smile on their faces and all had full bellies, we knew we had helped to create the perfect first impression!