Here at Hog Roast Penzance we enjoy long walks along the beach, and freshly made pulled pork rolls produced hot from a whole roasted pig. Lucky for us, we can and have paired both together at once as this past weekend saw our Hog Roast Penzance team taking a trip out to the beach for a private party event cooking up a gourmet barbecue for the ages.
With the summer here and the warm weather coming out there is as much an excuse as any to get out to the sea to soak up the sun and top up those tans. For our long time customer Grace, such a prospect wasn't quite complete until she had the brilliant idea to also work on that tan while enjoying a Hog Roast Penzance barbecue. She cobbled together a group of her friends and family and then called up her local Hog Roast Penzance team to enquire about the possibilities of a beach barbecue.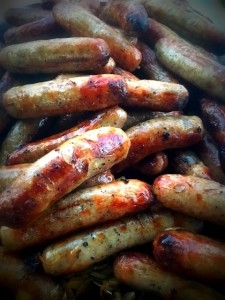 She was unsure that such a thing would be feasible for a catering team, but luckily for her Hog Roast Penzance are very adaptable and can easily wheel our mobile hog roasting units out to just about anywhere, meaning we didn't even need to skip a beat in confirming upon enquiry. Between Grace and our Catering Manager we figured that a barbecue would be just the thing for such an event and location, and so come the day of the event with the sun fortunately shining our team donned their beach wear (not really, we're professionals of course) and headed for the sea – a hog roast and a whole lot of fresh meats, veggies, sides, and rolls and wraps in tow.
Our team made every dish fresh at the beach under the cover of our own marquee tent to protect them from the sandy elements. The party enjoyed pulled pork, our homemade sausages and burgers, BBQ marinated ribs, roast potatoes, a sweet and regular fries medley, fresh seasoned salad and homemade coleslaw. A better day out at the seaside there has probably never been than this! Some of our team even came away with a slight tan too for their efforts!