If you're looking for reliable caterers, look no further than Hog Roast Mawgan. We've spent years not only mastering the art of the traditional hog and spit roast but also providing much more than you might expect. Our professional chefs are highly adept at creating all kinds of culinary masterpieces, whether you want extra food supplied for your special occasion or alternative dishes for guests with dietary needs. We can offer you tasty, homemade starters, mains and desserts, as well as side dishes aplenty and we also have many options to choose from if you've invited vegetarians, vegans or gluten-free guests. In fact, if you need other diets catering, just contact Hog Roast Mawgan and we will gladly assist.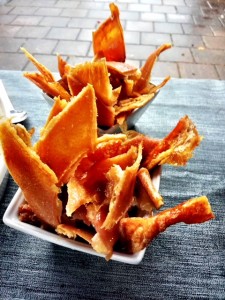 When Sally called us to book her son's 21st birthday party, she knew what most of the guests would want served – our amazing pigs in buns. We cook the pig from scratch, after preparing the meat at your venue, and it roasts away for hours on end until we get a crispy, salty outer, full of crackling, and a soft and juicy inner, with meat that falls off the bone and melts in your mouth. Once the meat is perfectly cooked, it has a rest and then we carve away so we can cram bits of pork and crackling into floury bread rolls and wraps, top with apple sauce and stuffing – both our homemade delights – and then you and your guests can add a bit of sauce if you prefer before devouring with relish –  and then heading back for more!
For this milestone birthday, Sally also asked us to cater for a guest with a gluten intolerance and she was surprised to hear that they would be able to eat our pigs in buns too, with all of the same ingredients as everyone else except for the bread rolls. In this instance, all we had to do was take along gluten-free rolls for this guest.
On the day of Sally's son party, our Hog Roast Mawgan team headed to her home and spent hours cooking some wonderful food for everyone. All of the guests had their fill and by the end of the day, the hog had been stripped clean, which goes to show that customers and their guests just can't help but head back for seconds!