It is often said that our food captures a sense of history as the time old tradition of roasting a pig whole conjures up ideas of a King in a great hall, dividing up the spoils between his loyal knights or other historical pictures. This is why the team at Hog Roast Truro were recently asked to cater for a historical, outdoor theatre festival – to add a touch of authenticity to the food guests were to eat. Brian, a local business man with a passion for theatre and history was the man behind the event. He'd organised for businesses who specialise in old technologies or old methods of manufacturing to set up workshops for guests to get involved with such as candle making or pottery, as well as arranging for theatre groups to put on performances on the outdoor stage.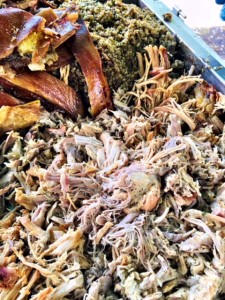 The event took place in a huge open field were hundreds of people in old world costumes took part and Hog Roast Truro's staff joined in with the fun. Not only was the chef dressed as a menacing butcher, but our waiting staff dressed up as jesters and peasants. However our silly get up did nothing to take away from our professionalism and our team were on site hours before serving time to get the Hog roasting and the dining area set-up.
When serving time came, the colourful queues formed. As the number of guests we were feeding was pretty high, it was okay for us to cheat and use our esteemed Hog Roasting Machines to prepare the food. The Hog was golden brown and served in our crusty bread rolls with Apple sauce. People were taken aback by how fresh and tasty everything was whilst still capturing a sense of history in every bite. One man dressed as a monk claimed that it was like 'history had come to life!'
The historical, outdoor theatre festival brought together an entire community of people who share a passion for history and a passion for fun. It was a pleasure to be involved in such a wonderful opportunity with so many unique, creative businesses and we are glad the team at Hog Roast Truro were able to get involved. Despite many fine plays being performed on the outdoor stage, it has to be said that the hog roast was the real star of the show.