Recently, the Hog Roast Yeovil team were hired by Rachael Crossley from Carlauren Lifestyle Resorts. She was hosting an event at the Langdon Court Hotel in Down Thomas, Plymouth, and requested the team to provide the catering for the event. However, the Hog Roast Yeovil team did not cook the food on site and instead delivered it to the venue. This demonstrates the flexibility of the Hog Roast team as they can adapt their cooking to suit any event. If your event does not have the space for the team to cook on site, then the team will prepare and cook your food at their base and deliver it hot to your venue in a professional manner to ensure that they uphold the quality of the food which is usually presented when it is prepared and cooked on site.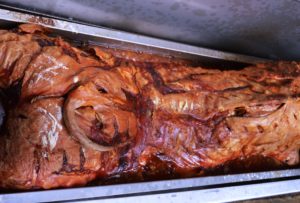 Rachael requested for a full slow roasted hog to be delivered to the venue at her selected time. Some clients often prefer for the meat to be cooked elsewhere and delivered because they do not require the team to deliver the buffet service. In addition, this also always clients to carve their own meat and present it in the way in which they prefer. Furthermore, many of the Hog Roast Yeovil team's menus come with a variety of side dishes which the client may not be requiring and, therefore, a simpler service is provided with the delivery of the roasted meat.
Despite the alternative cooking arrangements, the client will still receive the same fantastic quality and taste as the Hog Roast team will still cooked the meat in a Hog Master machine. In addition, the cooking will still be overseen by a catering manager to ensure that the meat is perfectly cooked and seasoned and also that the crackling is beautifully crispy. In addition, some on site services by Hog Roast teams also cook the pig off site and have it delivered to the buffet table. This is because the hog takes several hours to cook and the client may not be opening the venue until a short time before the service and offers great flexibility.