Every year, members of a local golf club throw a celebration in honour of the members and staff who make the club and course what it is. This year, they decided to go the extra mile and hire the team at Hog Roast Camborne  to cater for the event, and asked them to provide a banquet fit for kings. We were first contacted by Paul, a member and chair of the committee for the upkeep of the club. He spoke with us about the particulars of the event, such as choice of menu and number of guests.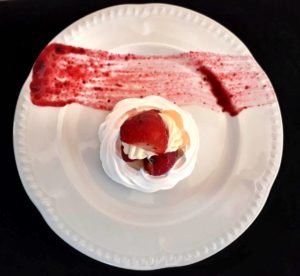 The event took place at the clubhouse that overlooks the magnificent course. Our team from Hog Roast Camborne, arrived at 2PM in order to begin preparations for the feast. There were over 120 guests expected for the celebration, comprised of both members and staff. Whilst they got ready at home, we prepared the space that they themselves are used to preparing. We set up our Hog Roasting equipment outside under the protection of a Gazebo in order to free up space inside, which was being decorated with candles and table displays by our lovely catering assistants.
When guests arrived they were welcomed by our waiters, who roamed with a selection of canapes which included, the Dim Sum selection of Chinese appetisers as well as the Peking Duck Wraps and the Spicy Thai Chicken Kebabs. Guests were soon shown to their pre-arranged seats where they were brought their starter of Smoked Salmon. Once the starters were finished it was then time for the buffet style mains – a choice of the Spit Roasted Lamb, seasoned with rosemary and served with mint and a mustard and dill sauce; or the Spit Roasted Pig served with apple sauce, stuffing and crispy crackling; both in accompaniment of a seasonal vegetable medley and roasted new potatoes with homemade onion gravy.
Finally after a short break following the mains, desserts were served, a choice of the Vacherins of Strawberries and passionfruit cream or the zingy Lemon Tart. After a wonderful night of celebrations, dancing and drinking, the members of the country club were delighted with everything that the team at Hog Roast Camborne had done to make the night a special one. With nothing left to do, our hardworking team tidied away their mess discreetly and disposed of any waste off site.