When it comes to catering, Hog Roast Redruth always has in mind the wants and needs of the customer and their guests. We want to exceed your expectations and not just meet them, so regardless of the type of party or event that you're planning, whether it's a posh affair or an informal gathering, and no matter the number of people you're inviting, our dedicated professionals will go the extra mile to make sure that it's a resounding success from start to finish.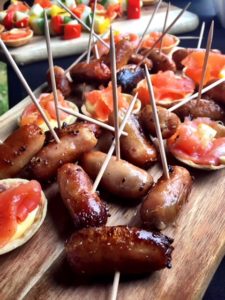 Once you've set the date and chosen the venue, finding your caterer is the next logical step, and with Hog Roast Redruth at the helm, you'll certainly be in great hands. In terms of choice and variety, we're number one, both locally and further afield, as we have an amazing array of options on offer so that everyone invited can enjoy our lovely, fresh food. With meaty alternatives to our sumptuous hog roasts, like spit-roasted chickens or turkeys, a hunk of beef or lamb, or barbecued meat like burgers and sausages, the carnivore guests will be in for a real treat but fear not if any of your guests are vegetarian, vegan or on a plant-based diet, as we have lots of options for them too. Plus our options for guests with allergies and intolerances mean that everyone can be well-fed, just as long as we have advance notice.
For a party that Hog Roast Redruth catered over the weekend, we did ourselves proud by providing a delicious spread including a selection of handmade canapés, dozens of pigs in buns to die for and a vegetarian option too.
When Rose asked us to cater her 35th birthday party at home with a group of her friends, she wanted to make sure that everyone had enough to eat, including two vegetarians, so our chef cooked up a tasty feast by making and serving five scrumptious canapés (including two that were suitable for the veggies), followed by pigs in buns and veggie skewers for the main course.
By the end of service, Rose and her fifteen guests were full to the brim and most of them still had leftover meat and crackling left for later.