As well as catering for wedding days, Hog Roast Fowey also caters for many pre-wedding celebrations, including engagement parties, hen parties, stag parties, pamper days, and more. With such a variety of menus to choose from, our team is bound to have something that is just right for you. Here is what you can expect when you book in with Hog Roast Fowey today…
Recently, Hog Roast Fowey catered for a great hen party and had lots of fun doing it! The event took place at a local function room and was the final party of the hen party celebration after the 30 guests had spent the day getting pampered and enjoying plenty of drinks. We were hired to serve a classic hog roast at the venue, with plenty of different dishes for the guests to enjoy and more than enough for seconds. We knew that this menu would go down a treat as it is the perfect way to end a busy day and prepare for an evening of relaxation (and plenty of drinks!).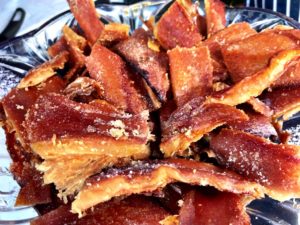 When the day of the event arrived, the Hog Roast Fowey team began to get to work in the afternoon to prepare for the 8:00pm mealtime. We started by slow-roasting the hog and ensuring that it was cooked to perfection before it was expertly carved by our chef. Once it was time to serve, the sliced pork was served in fresh bread rolls and accompanied by sage and onion stuffing, homemade applesauce, and crispy crackling. Additionally, we also served vegetable and halloumi skewers, and pork sausages, to provide a variety of main dishes for the guests to enjoy. For the sides, we served homemade chips, gourmet coleslaw, and a selection of fresh salad dishes, creating a nutritious and balanced evening buffet.
To find out which of our 7 catering packages is right for you, simply let us know your party size, date, and location and we can do the rest. We hope to hear from you soon!