For Kerry and Michael's recent wedding anniversary party, Hog Roast Callington cooked up a storm for their 40 guests with our amazing, mouthwatering Southern Slow Roast Menu. While we are famous for our speciality hog and spit roasts, we can also provide all kind of additional and alternative dishes, and the Southern Slow Roast Menu gives our customers and their guests plenty of variety. With your choice of three marinated meats from a possible five and your choice of four sides from a possible seven, it's a fantastic menu that even features a scrumptious vegetarian option if needed, too.
In terms of the meat dishes, Kerry and Michael decided on our barbecued pork butt, Texas beef brisket and Cajun-spiced whole roast chickens for their special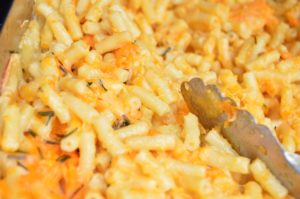 occasion, which are all roasted low and slow, and are served with some yummy sauces, including an extremely hot pepper sauce, a Jack Daniel's barbecue glaze and Stubb's BBQ Hickory Bourbon, as well as our usual condiments. For the four sides, they selected our zesty coleslaw, all-American mac and cheese, spicy sweet potato wedges and corn cobettes with melted butter, and they asked us to also serve our veggie skewers to their vegetarian guests. Our grilled skewers are packed full of flavour, with halloumi cheese, mushrooms, red onion, mixed peppers, courgette and vine tomatoes, which we then serve in pitta bread alongside a lovely Tzatziki dip. They are one of our most popular options, especially for vegetarians, but they are actually enjoyed equally by meat eaters too.
On the day of the wedding anniversary party, our hard-working Hog Roast Callington chef and assistants made their way to the hotel venue, to set up our equipment and start roasting the trio of meats. Once our gazebo and serving tables were set up, we cooked the meats for several hours until they were all as tender as can be, and then we got on with preparing the rest of our delicious homemade food.
By 5.30pm, our Hog Roast Callington team had a great feast ready to serve to Kerry, Michael and their hungry guests, and they started to queue up, many of them licking their lips in anticipation.